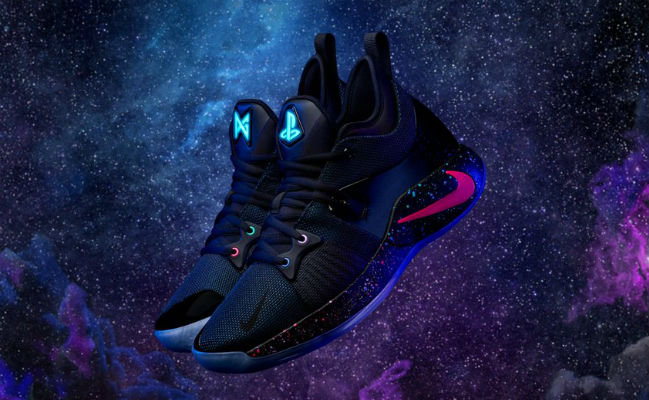 Paul George's latest signature shoe will be a big hit with people who like the Oklahoma City Thunder star and video games. The PG2 was announced by Nike on Saturday, and the first look at the kick is a galactic design with some PlayStation touches.
The PlayStation colorway of the PG2 has a "Palmdale To The Moon" theme and evokes space while incorporating George's signature style, which he showed off with his first PG design. Palmdale, of course, is where George grew up, so the shoe is a celebration of his rise in the NBA and the future of what's to come.
"I'm thrilled for the world to see the next step of the PG evolution," George said in a video the Thunder and Nike put out showing off the shoe on Saturday.
'I wanted it to be kind of the same as far as feel and comfort and performance," George said. "But aesthetic-wise I wanted it to be a little different. I think we captured that."
The eyelets on the shoe feature the matching PlayStation controller button colors, while parts of the shoe light up, including a power button. Additionally, each shoe will come with a PlayStation Network voucher code.
George wore the shoe for the first time in the Thunder's game against the Cleveland Cavaliers. It's a pretty good-looking shoe, and it drops on February 10, if you need to be the first person on your block to get that PSN code.