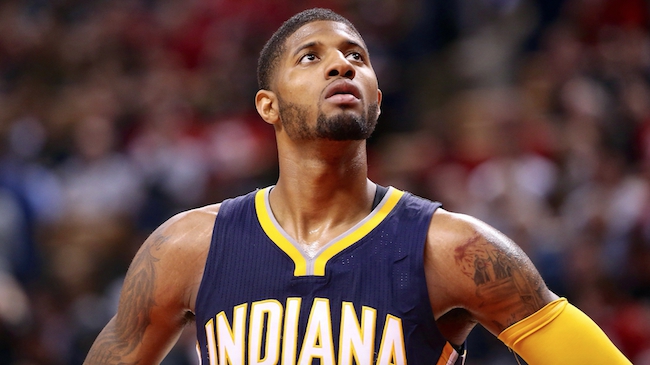 When Russell Westbrook finally signed his 5-year, $205 million extension on Friday, the Thunder's fan base let out a collective sigh of relief, knowing they wouldn't see another star walk in free agency as Kevin Durant did a year ago.
After that sense of calm and feeling of relief, Thunder fans could turn their attention to even grander aspirations in the hopes of keeping together their budding superteam that was formed this summer when they traded for Paul George and Carmelo Anthony. Anthony may or may not hit free agency, depending on what he does with his Early Termination Option, but George will certainly be on the market and will be highly sought after.
Beyond LeBron James, there won't be a more highly coveted star in free agency next season, but many anticipate the decision will come down to the Thunder and the Lakers. L.A. has long been the favorite to land George in 2018, but by locking up Westbrook, the Thunder can now make a very interesting pitch to George and, unless the Lakers land another star early in free agency, will have a better on-court outlook than the Lakers in the immediate future.
On Saturday, George was asked after practice whether Westbrook's extension will have an impact on his impending free agency decision and how, and he didn't shy away from saying it will certainly play a role.

"Absolutely, absolutely," George said. "Well, we've been on an unbelievable start right now and for him to be committed here, it says a lot. Not only in us pairing together, but knowing what type of dude Russ is and his values and his beliefs. Him being committed to this organization says a lot. I'm one person that's enjoying it here. I think when that time comes, the decision will be easier to make for myself."
It's interesting that he used the word "easier. If you note the tone in his voice, you can tell he doesn't mean it as a sure thing he'll be back in OKC or that the Thunder are even the favorite. If anything, that would seem to make the decision more difficult, but it's possible that George is noting that the decision now seems solidly between those two franchises.
There's a lot of reading between the lines that people will do with George all season, from his demeanor on the court and interactions with Russ to what he says over the course of the year. However, it's clear that he's taking note of Westbrook's extension and what that says about the organization. So much of George's decision will come down to how this year goes for the Thunder, but don't pencil him into the 2018 Lakers roster just yet. A good year in Oklahoma City and knowing Westbrook will be around for the entirety of his next deal, and George just might be back in blue.