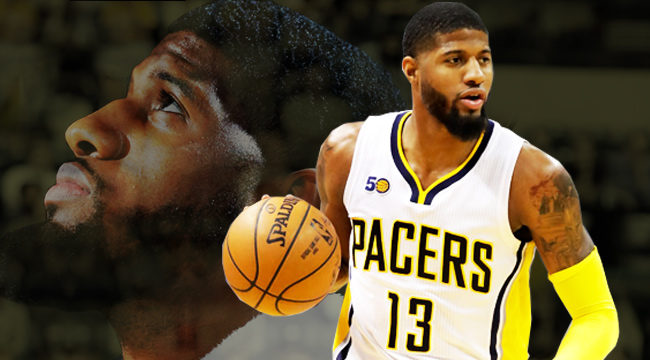 Despite a really good 2016-17 season, Pacers star Paul George did not make an All-NBA team. For most people, that doesn't mean much. In the grand scheme of things, not being a selection when you've made an All-NBA squad three times in your career isn't a world ender.
But for George, this was a huge deal. Due to the league policy regarding the Designated Player Exception, George would have been eligible for a five-year, $207 million extension from the Pacers this offseason had he made one of the three All-NBA teams. Considering the most that another team could offer once he hits free agency next summer is a four-year, $130 deal, George lost out on a ton of cash. This also changes what Indiana can offer, as the max they can now give him is a five-year deal worth $177 million.
George is now in a spot where he's not as incentivized to stay with the Pacers. There is a lengthy conversation to have about whether or not this is fair – the fact that the media is responsible for potentially helping a player make $30 million is kind of insane – but for now, the discussion surrounding George is about what's next for him.
There are three things that can happen with George: He can choose to stay with the Pacers this summer and sign an extension, he can get traded sometime before the 2018 trade deadline, or he can hit free agency and then do exactly what he wants. Let's ignore the first thing for now, because it's not going to happen. Without the DPE there's no financial incentive for George to sign an extension with Indiana now rather than wait until next summer and at least test the market before coming back.
As for where George might consider next summer, there are rumors aplenty about his desire to leave Indianapolis.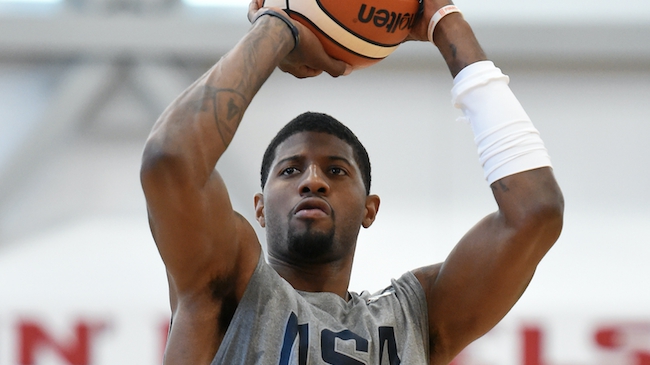 All of these rumblings prominently involve the Los Angeles Lakers. George is from just outside of L.A. and has reportedly wanted to head home and play for the purple and gold for some time. They also make any team's discussions about going out and acquiring George – yes, even the Lakers' discussions – a waste of time if they are true.
Looking at the 28 teams that are not the Lakers or Pacers, they need to sit down and seriously wonder whether these rumors about George are true. Aside from teams that feel that George is the one piece they need to win a championship, odds are the risk would outweigh the reward. Even then, unless the Pacers would have a lower-than-expected asking price just to get something back for George, potentially gutting your team probably wouldn't be worth it for a one-year rental.
Just look at the deal the Atlanta Hawks apparently offered the Pacers back at the trade deadline, which even for how good George seems like an absurd offer considering the risk that he walks next summer.
For that reason, all eyes are going to rightfully be on Los Angeles. They are in a unique situation – not only does George seem like he wants to go there, but they also possess a war chest of assets that few teams can rival. Between D'Angelo Russell, Julius Randle, Brandon Ingram, and the No. 2 pick in the 2017 NBA Draft, Magic Johnson can throw together a collection of talent that would absolutely be a fair value for a player of George's caliber.
But the inherent issue is that if George is as focused on joining Los Angeles as the rumors indicate, why on earth would they want to waste a single asset on acquiring him? Why not keep their core together, develop it, and add George to it next summer to the aforementioned young core?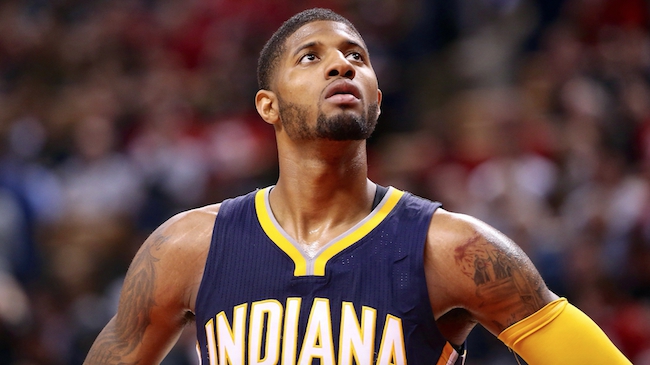 The answer, of course, is that anything could happen and George could change his mind on the Lakers over the next year. But if that's true, again, why wouldn't they want to hold onto their core and develop that talent?
Besides, imagine if Johnson decides to play the waiting game. Suddenly, the Lakers would have a bonafide superstar to go with perhaps the most entertaining young core in the conference. Plus there's always the chance that Los Angeles could use those young assets to get someone to pair with George, giving the team a bonafide 1-2 punch instead of a team consisting of George and not too much else.
The Lakers can learn from how the Knicks gutted their roster to acquire Carmelo Anthony a year before he would have signed there in free agency anyways.
It is easy to see a scenario where a team tries to go out and get George this summer, either on a one-year rental or with the hopes of convincing him to stick around via an extension, but that doesn't mean it would be a smart thing for any team to pursue.