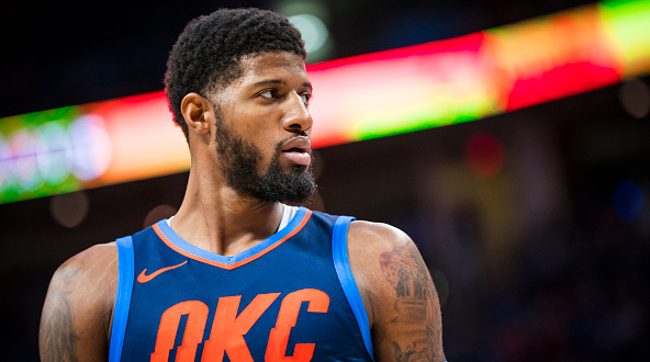 It's been a stressful season in Oklahoma City for everyone involved. The Big 3 of Russell Westbrook, Paul George, and Carmelo Anthony have faced enormous expectations and relentless scrutiny, especially given their, at times, inconsistent play.
With the trade deadline looming later this week, the Thunder appear to be buyers, not sellers, at the deadline thanks to a recent surge that has seen them get fairly comfortably into the fifth spot in the West. While there was some early season chatter about OKC possibly trying to move George to avoid him walking for nothing in free agency, that has all but been silenced by his All-Star level of play and the team's turnaround.
George himself has been understandably circumspect about his future plans, although several of his comments have inspired confidence that he's seriously considering a long-term commitment with the franchise. George said recently that the loyalty Westbrook has already demonstrated during their brief time together is making his decision easier, although in an interview with Rachel Nichols, he was careful to clarify that while he loves the brotherhood he's built with this OKC team, all options remain on the table when he hits free agency in July.
"I obviously would've loved to go home. That was ideal when it was that time," George said. "But now, being here, playing alongside Russ, playing alongside Melo, I feel a real brotherhood with those guys. If we're 'here' right now, then where can we be next year, where can we be the year after that. Of course, L.A. is home. That's always gonna draw the attention, but we'll see. I won't rule anything out, but I'm definitely happy where I'm at. I like where we're going, and I wanna see how this unfolds."
As with his previous comments, there's plenty to make Thunder fans optimistic about retaining him. The front office, after all, hedged their bets that, despite his preference to play for the Lakers, the experience of playing with Westbrook could inspire him to change his thinking.
Still, there's a lot that can happen between now and July. George has also said that it's not necessarily "championship or bust" for OKC and for his long-term prospects, but make no mistake that the Thunder will need a certain measure of success to convince him to stick around beyond this season.