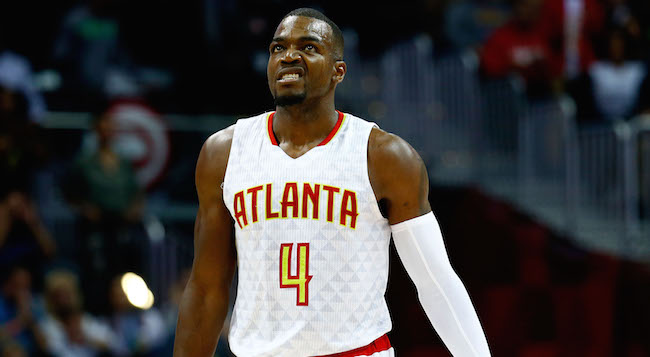 Paul Millsap is set to be one of the top free agents on the market this summer, as the Hawks' All-Star power forward hits free agency for the final time in his prime years. Millsap will be looking to cash in on a big deal one last time, and all indications were that the Hawks would be the frontrunners to retain his services because they can offer him the most money.
Earlier this offseason, Hawks owner Tony Ressler said they would do "whatever is necessary" to keep Millsap around, but new president of basketball operations Travis Schlenk, who comes to Atlanta from the Warriors, seems to have a different idea of "necessary" than most thought of when Ressler made those comments.
Schlenk, speaking with Chris Vivlamore of the Atlanta Journal-Constitution, indicated that there's a chance the Hawks wouldn't be offering Millsap the full five year max deal that he is eligible for by noting that Millsap could very well get better offers from other teams.
"We are going to make Paul our best offer," Schlenk said. "Will he have better offers? I don't know. Do we want to keep Paul? Sure. I said last week, if you are building a team with all the things I've said, Paul checks all those boxes. He's a hard-worker. He's a good guy. He's high-character. Skilled. He does all that stuff. We'd like to have him. The reality is, he might get better offers than we can make him."
It's a telling statement from Schlenk that the Hawks don't plan on mortgaging the future to keep with the status quo, which had been the expectation in Atlanta prior to the front office restructuring. The Hawks can offer five years, $205 million to Millsap this offseason, while the rest of the NBA can offer four years, $152 million.
That's a significant difference, even when factoring in the extra year, so by saying he could get better offers elsewhere, he seems to indicate that Atlanta won't be offering him a five year max deal, and potentially something slightly below a four year max.
That puts Millsap firmly on the market this summer and his skillset makes him an intriguing addition to any contender searching for front court help. Millsap has averaged at least 16.7 points, 7.7 rebounds, and 3.1 assists per game in his four seasons with the Hawks, earning an All-Star nod in each of those years and emerging as one of the league's best power forwards.
Millsap's versatility as an offensive player thanks to his perimeter shooting ability, coupled with being an excellent defender, will make him a hot commodity.
Should another team bring the max to Millsap and Atlanta not be willing to match, it would signal a significant shift coming for the Hawks' organization. The Hawks already have decisions to make about Tim Hardaway Jr. and trying to move Dwight Howard, and if Millsap leaves in July, it could swiftly lead to a tear-down and rebuild effort.