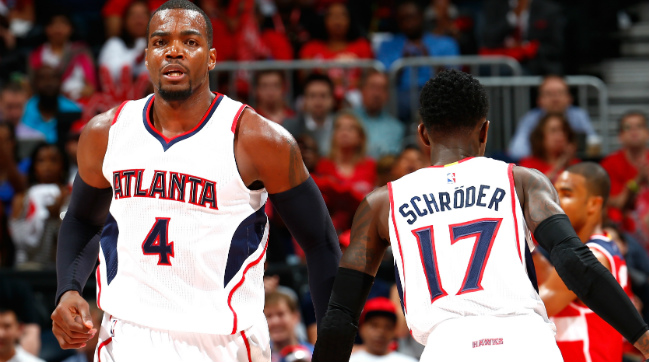 The Atlanta Hawks got a much-needed win over the Washington Wizards on Saturday. Atlanta defended its home court with a 116-98 victory to make the series 2-1 behind big games from Paul Millsap (29 points, 14 rebounds, five assists) and Dennis Schröder (27 points, nine assists).
After the game, the two teammates took a moment to laugh at Wizards forward Markieff Morris, who alleged that Millsap was a crybaby. A reporter told Millsap and Schröder that Morris – who was matched up with Millsap during the game – said this during his postgame media availability, and it took Millsap a second to respond.

While both dudes laughed, the approaches they took to responding to this question could not have been more different. Millsap admitted things got chippy, then talked a little smack by telling Morris to take the loss, head back to his hotel, and be ready for the next game. It was a well-rounded response to the question.
Schröder, meanwhile, just laughed the entire time and put his head in his hands. This is far more important than Millsap's response, because it says to me that Schröder has seen what happens to dudes who call Millsap soft, and it never ends well. It's like he's laughing because it's a way to cope with the fact that Millsap doesn't usually respond to this stuff well. He even said "Oh my god, no." You do not say that if things are going well.
All I'm saying is that Schröder single-handedly made me super stoked for Game 4 of this series. Please have Morris and Millsap go at it for 48 uninterrupted minutes.