DENVER — Paul Millsap saunters toward the locker room after shoot-around, not far behind Nikola Jokic, Jamal Murray, and much of Denver's young core, who head for the showers. As he arrives at the doors, he's greeted by Nuggets PR and directed to the media scrum on the other side of the hallway.
"Aw, c'mon. I like to shower first too," Millsap pleads.
"Someone's gotta do it first," PR chief Nick O'Hayre explains.
Millsap wanders over and, like on the court at the Pepsi Center, does his job dutifully, answering questions about defensive changes for Game 2 (without divulging too much), Mike Malone's absurd preparation, and his role as the grizzled veteran on one of the youngest teams in playoff history.
The 34-year-old Millsap was born to be a contributing veteran presence on a team. Aside from the occasional effort to dunk all over someone, Millsap has long had a game built on solid fundamentals, craftiness, and veteran savvy. It was in Atlanta where he became an All-Star and opened the eyes of the league to his skill-set alongside another underrated big man in Al Horford, who like Millsap is also playing a key role as a veteran on a young team with aspirations of a deep playoff run.
With the Hawks, Millsap honed his skills and expanded his range, becoming capable of stretching the floor to three-point range and building on his abilities as an on-ball creator from the high post as a nightmare for opponents when he faced up. His performance in Atlanta led Denver to signing him to a three-year, $90 million deal. For much of his first year with the Nuggets, he battled a wrist injury that limited him to 38 games. This season, he suffered a broken toe and missed time in the middle of the year.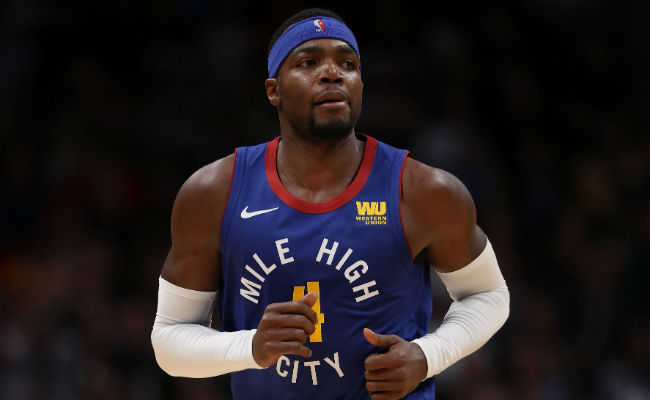 Now, he's healthy, and his presence is a welcome sight for a young squad that can use a stabilizing force at times on both ends. Millsap and Isaiah Thomas are the only players on the Nuggets who have seen a conference finals, and Mason Plumlee is the only other one who has played in the second round. Of that trio, Millsap easily has the most playoff experience and plays the biggest role for the Nuggets.
His message to the team this postseason has simply been trying to keep the young guys engaged and on task, knowing a seven-game series against the same team can get monotonous if you're not careful.
"You just can't get bored with it," Millsap said. "You have to be energized every game and after every game. You never know what can happen, so staying on our toes and getting ready and prepare for whatever. I think that's the main thing for younger guys. Not knowing what to expect from game to game, controlling your emotions, not getting too high or too low, and understanding the moment."
As for his message specifically to Jokic in his first postseason, the conversation's been pretty simple.
"Me: Joker, be more aggressive. Him: OK. Pretty simple," Millsap said with a laugh.
He's not just a motivator to his young teammates, but someone they can lean on while on the court as well. This postseason, he's averaging 12.8 points and 4.9 rebounds per game, and the nights he's at his best, the Nuggets seem to be as well. No player on the Nuggets this season had a bigger discrepancy in their offensive rating and shooting efficiency between wins and losses than Millsap, and when he's right he takes a lot of pressure off of All-Star center Nikola Jokic.
In Game 1, Millsap set the tone for the Denver offense with 17 of his 19 points in the first half, showing off his full array of skills to take some pressure and attention off of Jokic, who took over in the second half. Millsap was happy to step aside and see Jokic take his message to heart and be more aggressive in seeking out his own shot.
For Game 2, Millsap wants to see the defense get better, as Denver looks to corral the Blazers guards better in pick-and-roll situations, but on offense he'll just be ready to take on whatever role is asked of him. If that's sitting back and playing off his young star center, he'll do that. If it's like Game 1 and they blitz Jokic, he'll be prepared to be in attack mode.
Someone's got to do it first, and sometimes that duty falls on the veteran.