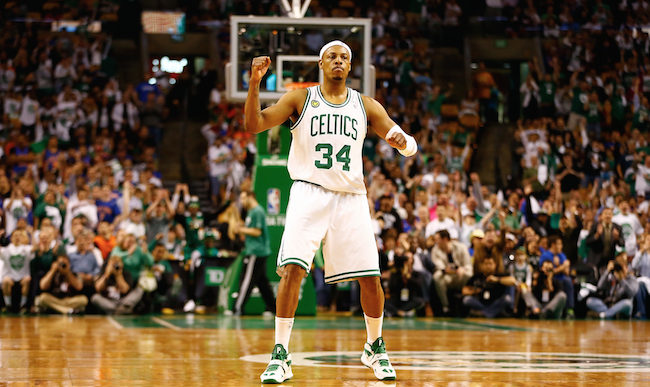 Paul Pierce signed a two-year deal including a player option on the final season with the Washington Wizards in summer 2013. And despite saying all the right things about a long-term in the nation's capital and providing his normal dose of playoff theatrics, the future Hall-of-Famer jumped at the opportunity to enter free agency again in July.
Why? Pierce's ultimate decision to become a Los Angeles Clipper – with whom he flirted during last year's free agency period – said all anyone needed to know about his reasons for leaving Washington. Namely, the 37-year-old simply wanted the best chance to win another championship before it was too late – or apparently the opportunity to end his storied career where it all began.
At a charity event inside Boston's TD Garden earlier this week, Doc Rivers said he believes that Pierce considered one other team in addition to Los Angeles: the Boston Celtics. Courtesy of MassLive.com's Jay King:
"I think he wanted to go one of two places," said Rivers… "He wanted to come back here or he wanted to finish his career at home where he grew up, and I think it's really cool for me that I can be a part of that."
Pierce, of course, called Inglewood, Calif. – just a short drive from downtown Los Angeles – home as a child. He grew up an ardent Los Angeles Lakers fan, rooting against the very franchise in so many Junes during the 1980s for which he'd eventually become an icon.
There was a report before free agency began on July 1 that Boston was interested in Pierce, and would use the signing of Kevin Love as bait to lure him back to the green-and-gold. Love, however, immediately signed a five-year, max-level deal with the Cleveland Cavaliers, officially ending the Celtics' multi-year courtship of the sharpshooting big man – and any likelihood that Pierce would return.
Brad Stevens is a fantastic coach, and Boston has a plethora of solid players across the board. But barring the blockbuster trade for a superstar that Danny Ainge has long sought, the Celtics won't be contending for championships anytime soon, let alone in 2015-2016. The addition of Pierce would only take playing time away from youngsters that Boston needs to be evaluating, too.
It would have been a storybook final chapter for one of the greatest players in Celtics history. From an actual basketball perspective, though, Pierce reuniting with Boston wouldn't have made much sense for the player or team. Both sides are better off having parted ways for absolute good.
[Via MassLive.com]