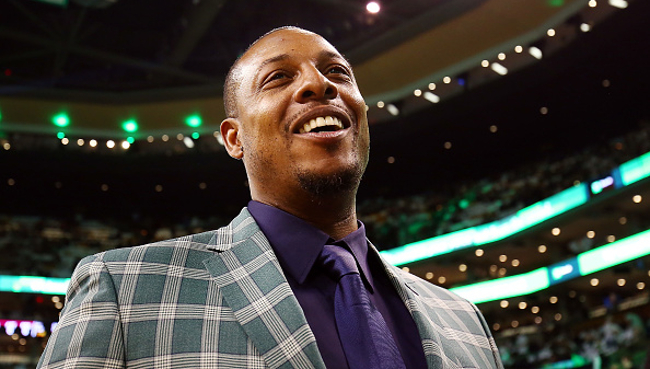 Initially, there was a lot of hoopla in the lead-up to Paul Pierce's jersey retirement ceremony at TD Garden on Sunday. The Celtics had originally planned to honor both Pierce and Isaiah Thomas, who was set to return to Boston as a member of the Cavs, but Pierce balked at that notion, telling the organization that he'd prefer not to share the spotlight with Thomas, which earned him some light-hearted flak from his broadcast partners at NBA Countdown.
Boston eventually acquiesced, but it ended up being a moot point after last week's blockbuster deal that sent Thomas to the Lakers at the trade deadline. So on Sunday, the Truth had the moment all to himself, with head coach Doc Rivers, along with Kevin Garnett, Rajon Rondo, and several other former teammates on hand to celebrate as the franchise raised his jersey to the rafters where it will hang immortal alongside a bevy of other Celtics legends.
The festivities started with an epic 5-minute tribute video, which set the table for the lengthy ceremony and explained why it wasn't held at halftime.
Rivers then took the stage to reminisce about some of Pierce's more iconic moments, followed by team president Danny Ainge, who reiterated that it was Pierce's selflessness that ultimately helped keep the Big 3 together.
Pierce, understandably, got emotional during a touching speech thanking the franchise, his former coaches, teammates, and the fan base that supported him throughout his illustrious career before watching his jersey join the ranks of so many Celtics legends of the past.
And not only did the Celtics retire his number, they renamed the tunnel leading out to the court after him.
Pierce's contemporaries around the league also put together a tribute video expressing their appreciation for the indelible mark he's left on the NBA.
Finally, Pierce raised the banner with his No. 34 on it to sit in the rafters at TD Garden.

The actual game that preceded the ceremony didn't quite go as planned, however. The new-look Cavs categorically dismantled the Celtics en route to a 121-99 blowout win.
But it was a event worthy of the future Hall-of-Famer who will go down as one of the best players in the history of the NBA's most storied franchise.