It would have been easy for Paul Pierce to walk away from the NBA after last season. He had nothing left to prove, having experienced all of the highs and lows of an NBA career, from losing 58 games (including an 18-game losing streak) to winning an NBA championship. A 10-time All-Star, a Finals MVP, and four-time All-NBA player, Pierce is a mortal lock for the Hall of Fame. So, when the Washington Wizards failed to upset the Atlanta Hawks – despite Pierce's multiple end-game heroics – nobody would have blamed Pierce if he chose to hang up his jersey for the final time.
But Pierce wanted one more shot, a chance to end his story on his terms. He returned home to Los Angeles, reuniting with Doc Rivers and signing with the Clippers, a team desperately in need of a strong veteran presence. He knows he's not The Man anymore, but he also knows he still has enough in the tank to help lead the Clippers to the championship.
Recently, while promoting the new Guitar Hero Live, Pierce talked with DIME about his decision to go to the Clippers, what exactly "veteran leadership" means, how a player looks at the end of his career, and whether his teammates can wear LeBron James' shoes.
DIME: Do you have a go-to Guitar Hero song?
Paul Pierce: I don't have one yet, because I'm still working on it. I'm trying to work my way up so I can play a Jimi Hendrix song. I can't get there yet, it's kind of difficult. I guess right now I would have to say… wow… "California King Bed" by Rihanna.
I know you're really competitive, so when you're losing or not doing well, do you throw down your controller?
[Laughs] No, I don't throw it down. I'm gonna keep going through, definitely.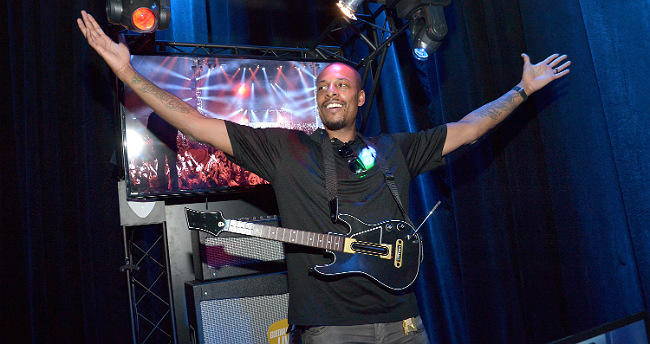 You see the term "veteran leadership" thrown around a lot, sometimes to the point of mockery. What does that term mean to you?
It's someone that's respected in the locker room. When you speak, your words are heard. Players hear the coaches every day, but when it comes from one your peers that you respect, it kind of sinks in a little more.
Was there an adjustment period for you to become a leader with this team, or did you just step into that role right away?
It's easy for me, because that's who I am. I'm going to speak my opinion, good or bad. A lot of guys either like it or don't like it. I'm not a guy that's going to rub off on my teammates the wrong way. I'm going to tell them straight forward the things that need to be said, because I know, at the end of the day, guys know I'm here to try to win a championship, and that's all I care about. I'm not telling them things for selfish reasons. I've accomplished a lot of things in my career, the things I tell them, it's for the good of the team.
Do you get tired of being asked about being a leader? It's not like the Clippers signed you to be a glorified assistant coach. At some point, do you just want to remind people that you're still a pretty good player?
I guess my age has a lot to say about that. I'm still more than capable of helping us win games and knocking down big shots.
You played the four last year in the playoffs to great success. I know Coach said you'll be playing there again this year. Is that basically a necessity at this point?
That's just the way the game is going. When you look at how Golden State won the championship, they just put out four guys of the same height who could play. You don't see a lot of post play, not like it was five or six years ago. Now a lot of guys are putting out stretch fours that can knock down shots and make plays, and it opens it up.
Right now, it's a guard's game. The best position, if you break it down, is the point guard position. I think what teams are trying to do are stretch the floor, open up the court for their superstar guards to be able to create, get into the lane and make players better.
I actually wanted to ask you about point guards, because you've played with some amazing point guards in your career, like Rajon Rondo, Deron Williams, John Wall and now Chris Paul. Does it take time to acclimate to a new guard?
They make the game easy for you, when you play with those types of guards. They're guards with high basketball IQ. I don't have to do a lot of one-on-one things, I can just play off them.
Like I said, this is a guard-filled, superstar league right now. There's an argument on who's the best point guard in the league, you can't just say one, even though Steph Curry won the MVP. There's a lot of people who say Chris Paul, John Wall, and the list goes on.
You said that if the Clippers win it all this year, you'll probably retire. How hard is it to come to that decision?
I've played a lot of years in this league, and I wanted to win [another] championship. If I'm able to win one in L.A., in my hometown, that'd be a great storybook ending. It would be tough for me to walk away and not try to repeat, but when I look at the end of this book – my career – that'd be a perfect ending.
I don't want to walk away from the game. Hopefully I can still have an impact on the game, whether that's management or coaching one day, so those are other avenues I'm looking at.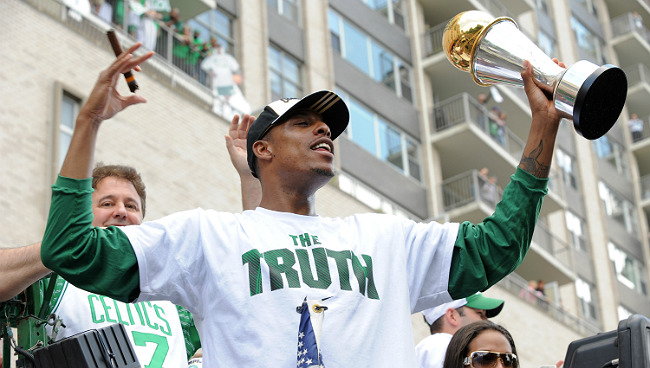 Does that give you an added sense of urgency this year?
Definitely. I'm treating every practice, every day like it's my last. I'm excited to be around the guys every day. But that's been my approach for pretty much my whole career. That's the only way I know.
You also said that, when you grew up in L.A., the Clippers had to give away tickets. How special is it being back in L.A. with a Clippers team that's on the rise?
It's a great opportunity. Things don't stay the same forever. Even when I'm long gone from the game of basketball, [the Clippers] are going to be a team that's a contender for quite a while.
When you have a great owner like Steve Ballmer with deep pockets, who wants to get the players, unlike [Donald] Sterling before, who let his top free agents go, I don't think you're going to see that with this owner. He's going to try and really build a championship here. Before, it seemed like it was a business, and a business only. Sterling didn't really care about winning a championship, but I don't see that with [Ballmer].
Last question. Marcin Gortat said you didn't allow your teammates on the Wizards to wear LeBrons. Has that changed?
[Laughs] Now that I'm not in the Eastern Conference, I've lightened up. But now no one can wear Currys.