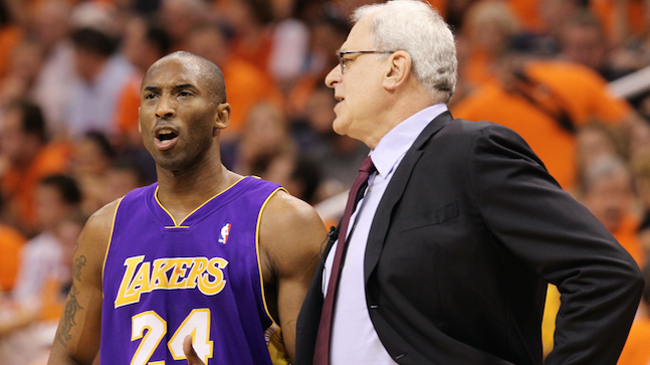 Phil Jackson likes to talk. And his ceaseless chattering has resulted in no shortage of soundbites over the years. It wasn't enough that someone allowed him to write so many books that never fail to induce in their readers what Louis C.K. might call a "deep, African sleep." No, someone had to go and give him a Twitter account as well, which added a whole new dimension to his unrelenting verbosity.
He also never misses an opportunity to disparage someone via the media, particularly his own players, just as he did recently when he unnecessarily derided J.R. Smith as a miscreant when asked why the Knicks traded him and Iman Shumpert to the Cavs earlier this year. That particular quote came during the previous installment of Charley Rosen's series "The Phil Files," in which he documents a single day spent with Jackson during each month of his inaugural season as Knicks president.
Monday, in part five of the series ("Everybody's a Critic"), Jackson sounded off on yet another laundry list of topics, including the previously browbeaten issue of his sometimes contentious relationship with Kobe Bryant. Rosen asked Jackson about a recent interview Kobe did with GQ in which he was perfectly frank about his utter dislike for his Lakers coach at various points during their run together. Here's Jackson's response, via Charley Rosen of ESPN.com:
"Ah, my good friend Kobe Bryant. … Yes, quite often I could feel his hatred. I'm sure Kobe was pissed when I wrote in "The Last Season" that he was uncoachable. And, yes, we were often at loggerheads. He wanted more freedom and I wanted him to be more disciplined. This is a normal source of friction thing between coaches and players on just about every level of competition. But when I came back for my second stint with the Lakers, Kobe and I worked it all out. I gave him more of a license to do his thing, as long as it stayed within the overall context of the triangle. And we did win two more championships. Anyway, I've always seen Kobe as a truly great player, an intelligent guy and a remarkable person."
Jackson's acumen as a basketball mind has never been more in question than during his current stint as a Knicks exec, especially after striking out on all the big names in free agency and making a controversial selection (Kristaps Porzingis) in this summer's draft that drew the ire of Knicks fans everywhere.
To be fair, he picked up a couple of nice complementary players in Robin Lopez and Arron Afflalo. He's also getting Carmelo Anthony back from a knee injury, but with the way the rest of the roster is assembled, the Knicks don't pose a real challenge in the Eastern Conference. New York is in for another long season, and Jackson will be subject to even greater scrutiny as time goes by, and he'll surely have a lot of things to say about it along the way.
(via ESPN.com)