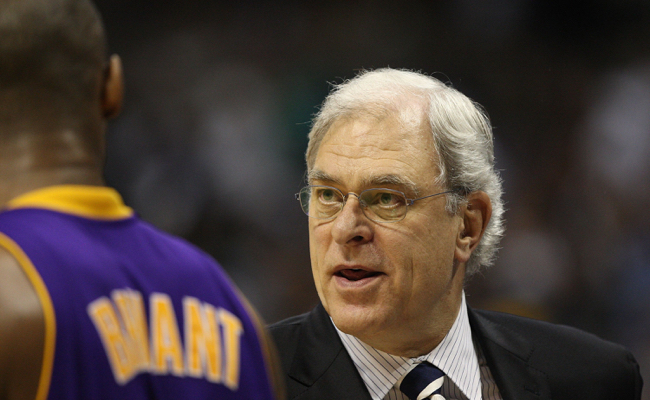 Leave it to Phil Jackson to turn Friday's media day into everyone's favorite blog headline.
New York's Basketball Buddha said that he doesn't think former star pupil Kobe Bryant is retiring after the 2015-16 season, as many expect (Bryant's $48.5 million two-year deal is up at the end of the year). Not only that, but Phil thinks Kobe plays elsewhere in 2016-17, donning another uniform for the first time in his career.
Phil, on Kobe: "I don't think this is his last year. Might be his last year as a Laker."

— Chris Herring (@HerringWSJ) September 25, 2015
Phil: "I think [Kobe] is going to be better than ppl think." He says he assumes there will offers on the table 4 him to continue his career.

— Chris Herring (@HerringWSJ) September 25, 2015
Bryant is 37 and this coming year he'll reach the two-decade mark in the NBA. Even Bean is ambivalent about his future, so the chances Phil has some inside scoop just because he used to recommend books to Bryant and somehow lassoed him into the confines of the Triple-Post offense, doesn't mean he's right.
Lets also not forget the silly Stephen A. Smith rumor from earlier this offseason, whereby Kobe joins 'Melo in New York next summer and together they woo Kevin Durant to town for one last hurrah. While that development seems entirely unlikely, don't put it past Phil to drop a bomb like this on media day just to mess with everyone.
In all likelihood, Kobe retires a Laker at the end of the 2015-16 season. But if anyone could convince Kobe to actually leave the Purple and Gold for another chance at a sixth ring, Phil Jackson might be that person.