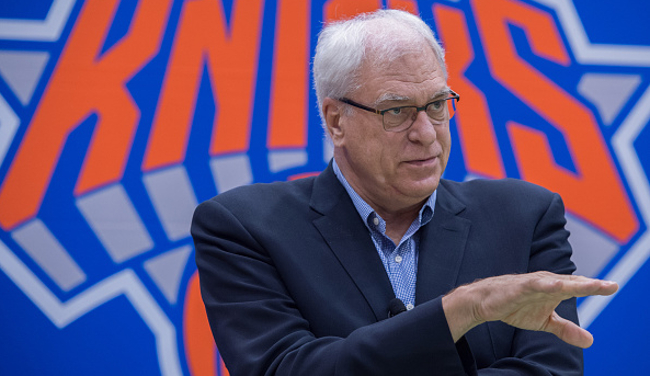 Of all the things Phil Jackson has done since taking over as the Knicks' president of basketball operations, taking Kristaps Porzingis at No. 4 in the 2015 NBA Draft is far and away the best decision he's made. Two years after landing a 7'3 unicorn of a player who still has two years left on his rookie deal before restricted free agency, the Knicks are legitimately considering potential trade options.
Adrian Wojnarowski of The Vertical reported on Wednesday night that the Knicks were looking for a package that included a top 4 pick in this year's draft in an effort to land Josh Jackson out of Kansas. Marc Berman of the New York Post reported that the desired package was a top 4 pick and a strong asset in return for Porzingis.
While those reports were swirling, Jackson was holding a live interview on MSG Network with Al Trautwig, and not only did he not deny those rumors; he even tipped his hand a bit as to what might be enough to intrigue the Knicks.

We're getting calls. You know as much as we value Kristaps and what he's done for us, when a guy doesn't show up at an exit meeting everybody starts speculating on the duration or his movability from the club. So we've been getting calls. We're listening, but we're not intrigued yet at this level. But, as much as we love this guy, we have to do what's good for the club.
When pressed on what would be good for the future of the club, Jackson laid out some parameters for what may be enough value for Porzingis.
Future. What it brings? Does it bring us two starters and a draft pick, or something even beyond that? It's something we have to look at going down the road. We know what he is. He's a unicorn and he's special.

Jackson seemed to still be a bit perturbed about Porzingis skipping his exit interview with the Knicks and noted that it's not something he's ever seen before on a team he's been around.
I don't think I've ever had a player over 25 years of coaching, maybe 30, not coming to an exit meeting. So, it's not happened to me. I know it happens to other people and other players and his brother and his agent have downplayed it. Still, it's a chance for a person to express themselves, and I had a great relationship with Kristaps over the last two years. So, it was kinda surprising.
As for the relationship between Porzingis and the Knicks, things don't sound great. Jackson said he's tried calling but hasn't spoken on the phone with Kristaps, although he noted they've communicated in other ways.
Well I've reached out. We've communicated, not through voice or anything, although I've tried to call. But, yeah, it's gotta be — and they say no worries, he's working hard. And there are plenty of pictures of him on the internet working hard and working at it, so, yeah, we'll get it back.

The quote about the "doing what's good for our club" in particular sent Knicks fans into a frenzy, as most point out that keeping the young, budding star who is as unique a player as we've seen enter the NBA in recent years is almost assuredly the best thing for the club. However, Jackson seems to think that there may be a package out there, likely involving the chance to take Josh Jackson, that would improve the Knicks moving forward more than keeping Kristaps.
Knicks fans were already furious with Jackson when the first rumors came out, and this public acknowledgement that he's considering trading Porzingis will only fuel that fire. The Celtics, who have been rumored to be thinking about trading out of the No. 3 spot, as well as the Suns at No. 4, seem like the two top candidates for a possible Porzingis trade as each have the desired pick and other assets to meet Jackson's reported demands. We'll find out on Thursday night if either are willing to pony up and try to get the unicorn out of New York.