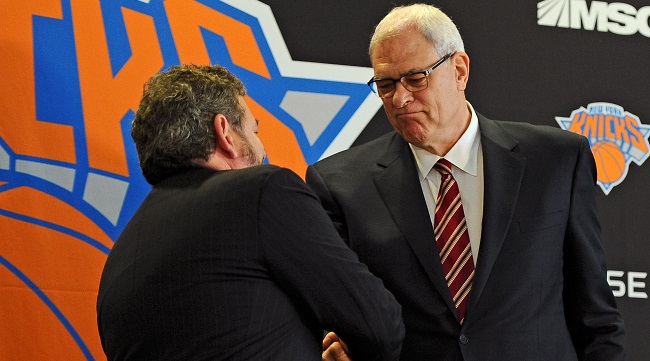 The Phil Jackson era for the New York Knicks has been a never-ending source of intrigue. On Wednesday, however, it appears to be coming to an end, as multiple sources indicated that the Knicks will part ways with Jackson as the team's President of Basketball Operations late last night.
On Wednesday morning, the team made it official:

Jackson has two years remaining on a massive contract that pays him eight figures annually and, perhaps the most intriguing portion of this maneuver is that the Knicks and Jackson recently agreed to pick up a mutual option for the final seasons of that contract. Just weeks later, the two sides are reportedly headed in different directions and that comes as a result of an increasingly toxic relationship with Carmelo Anthony and the well-reported saga of Kristaps Porzingis and trade rumors surrounding the team's best asset.
While Jackson deserves credit for unearthing Porzingis and, to a lesser extent, Willy Hernangomez in the NBA Draft, his tenure as the head of the front office has been filled with head-scratching personnel and public relations decisions. With that said, the final straw is reportedly a combination of the Anthony uncertainty and the way that the Porzingis situation has been handled over the past few weeks.
In fact, there is already a reported candidate for the Knicks job in the form of Toronto Raptors executive Masai Ujiri.

Given the deep pockets of James Dolan, the Knicks could attempt to lure other big names like David Griffin or Sam Hinkie. Still, there is a dark cloud hanging over the franchise at the moment and it might be difficult to lure the best of the best without significantly overpaying. Until the next (inevitable) big name arrives, it will be Jackson's right-hand man, Steve Mills, captaining the team into free agency beginning on July 1.
Phil Jackson, at the age of 71, is seemingly about to step out of the basketball limelight and Knicks fans everywhere seem to be celebrating the news.