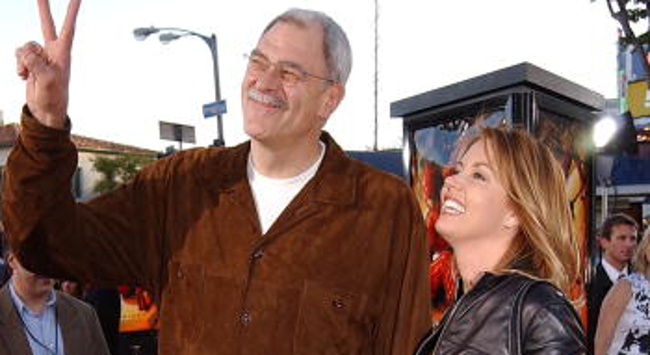 Back in the spring of 2014, Phil Jackson signed a five-year, $60 million deal to take over as head honcho of basketball operations for the New York Knicks. It's been a rocky go so far by almost any measure, given the Knicks' historically futile season in 2014-15 and more recently the dismissal of Jackson's own hand-picked coach after an embarrassingly high-profile off-the-court debacle.
The Knicks are currently six games out of the playoff hunt in the East, and superstar Carmelo Anthony recently made no bones about his displeasure with the team's relentlessly losing ways. All of this has created the perfect storm for sudden speculation about Jackson's future with the franchise, however far-fetched and premature such talk might be.
Bill Oram of the Orange County Register joined the PBT podcast recently and suggested that Jackson could potentially return to L.A. in 2017 when his fiancee and head Lakers' decision-maker Jeanie Buss inevitably ousters her brother Jim from his position as VP of basketball. "I think that's definitely going to be in play, if they don't change things up and hire some top level management this year, I think that when Phil becomes available if the Lakers are still in the market, it's going to be a natural fit."
There's certainly room for conjecture, considering Jackson's relationship status with the late Jerry Buss' daughter and, as luck would have it, the fact that the legendary coach has an opt-out clause built into his current deal for the summer of 2017. But Jeanie did her best to put a plug in that talk (at least for now) during a recent interview with Sam Amick of USA Today Sports:
"It really isn't about trying to get him back here (to the Lakers)," Buss said. "He is happy with what he is doing, and he … is up for the (Knicks) challenge, and he's seeing the results of the work that he's put in. But he has a ways to go."
A key component of this little thought-experiment is the fact that Jeanie apparently gave her brother Jim a timetable to get the Lakers back into contention, or else. That timetable supposedly runs out after next season, and though the Lakers should have some flexibility going into the summer to go along with a promising young core, it's difficult to imagine them fielding a team that could make a legitimate run at the Western Conference crown as early as next season.
Barring some sort of miracle, the door will be flung wide open for Phil's return. Whether he decides to saunter through it remains to be seen.
(Via USA Today Sports; h/t SB Nation)