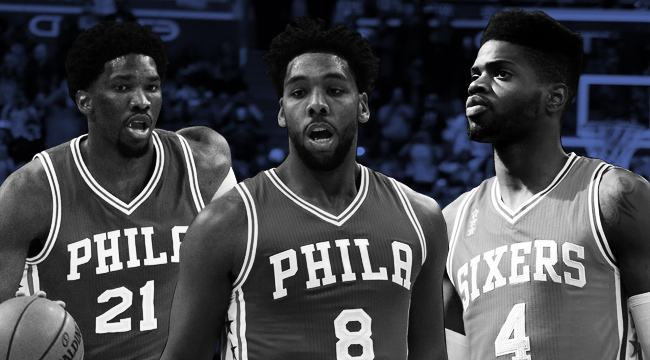 The Sixers have a problem in their frontcourt. It's simple. They have a lot of dudes who play in the post. There aren't enough minutes to go around. Plenty of people foresaw this issue coming at the beginning of the year, and to the shock of no one, this problem has manifested itself in a big way.
At the center of this issue are three players – Joel Embiid, Nerlens Noel, and Jahlil Okafor. There's also the whole "this situation gets a little more complicated when Ben Simmons gets back" thing, but for now, let's just look at the Sixers' frontcourt as a mix of these three guys vying for time.
The only 100-percent-surefire-we-have-to-do-this thing for Brett Brown is to let Embiid play as much as possible. He is a center, he is the team's best player, and every second he doesn't spend on the floor when he's healthy and able to play hurts the team. Essentially, every decision the Sixers make in their frontcourt should revolve around what complements Embiid the most.
That's why when this news came down on Sunday, it seemed so strange.
For some reason, Philadelphia has decided that it would be best for Okafor to get major minutes next to Embiid instead of Noel. This is a bad thing.
For one, all three of these players are centers. Playing two at the same time is generally not a great idea, especially considering the team currently has a handful of players who should line up at power forward (Richaun Holmes, Ersan Ilyasova, Dario Saric, and Simmons when he gets back) already. You could, if you want – and the Sixers appear to want to do this – play any of the first three at small forward, but there aren't many 6'10 people with great foot speed. These dudes prove this. Imagine them guarding LeBron. It's not pretty.
But the Sixers are convinced that the best thing for their process is to pair a frontcourt of Embiid and Okafor. Embiid is a potential once-in-a-generation talent at center, the kind of person you can absolutely build around due to his ability to score all over the floor and be a game-changer on the defensive end.
Okafor is a very good back to the basket scorer who is limited in essentially every other facet of the game. He was 87th among qualified players in block percentage and 91st in total rebound percentage last season. By defensive win shares, Okafor was as valuable on the defensive end during the 2015-16 season as Alonzo Gee, Tyler Zeller, Mike Muscala, Rasual Butler, Justin Holiday, and Randy Foye. All of them had 0.9 DWS on the year. Okafor was the only one who played more than 22.4 minutes per game.
Even if he was good at all of these things, he's still a below-average athlete who needs to camp out in the post to have any success on offense. This clogs everything up for the Sixers, namely Embiid, who has shown flashes of some low post moves that are reminiscent of Hakeem Olajuwon.
The decision to go with Embiid and Okafor doesn't make much sense. It makes even less sense when you remember that the team has a big man in Noel who can live without the ball in his hands on offense and has the potential to be an outstanding defender. Sure, playing Noel at power forward probably isn't ideal, but he showed last year he can play there and be effective. His rookie season was historically great on the defensive end, he understands his limitations on offense, and he compliments Embiid more than he drags Embiid down.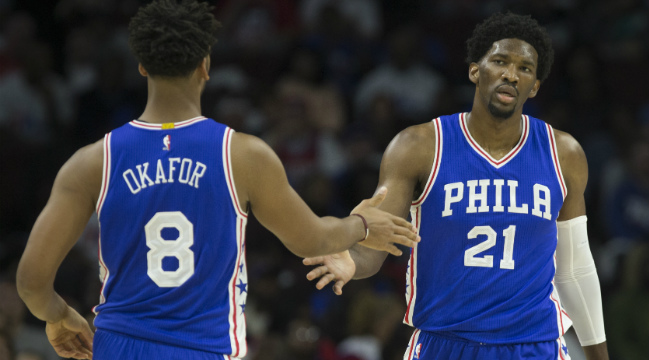 Really, that's the thing the Sixers do not realize. In Embiid, they have a big man you can build around, because the game becomes easier for everyone else on the floor. In Okafor, they have a big man you can build around, but he needs specific players around him to thrive. One is a player who makes everyone around him better, the other is a player who needs the right people around him so he can be better.
It seems like the Sixers have an easy decision on their hands, but the team has bungled their frontcourt situation so much that there's no way they'll do what's best for them. For my money, this involves moving Okafor – whether in a trade or to the bench and having him lead the team's second unit – and having the lion's share of minutes at the five go to Embiid and Noel.
Things get complicated a little when we get to the whole "they made Noel furious and it's hard to imagine him willingly suiting up for the team for much longer" thing, which is a real issue that the team has to address as soon as possible..
The day after Noel said this, the Sixers made the aforementioned announcement that he would be taken out of the rotation. Later that day, this happened:
The issue now is every team in the league knows the situation the Sixers are in, and Noel's trade value (especially with his impending free agency) goes down by the day. Teams aren't going to offer fair value for the young center if they know they can wait until the end of the year to sign him to an offer sheet. So the Sixers are potentially hurting their present and their future by going with Okafor over Noel.
To make matters worse, Sixers general manager Bryan Colangelo blamed the team's logjam on his predecessor.
To Colangelo's credit, he is right – Sam Hinkie's front office didn't do him any favors by drafting Okafor when the team already had Noel and Embiid on the roster. Even if Embiid's health was a question mark, taking Okafor over, say, Kristaps Porzingis seems like a worse decision with each passing day. (Now I'm imagining an Embiid-Porzingis frontcourt. Please hold me.)
But Colangelo, whose family hasn't exactly had the best relationship with Hinkie, does not realize that you can't blame your predecessor when you've been at the helm long enough to make a change. If he took over the team a week ago, that's one thing. He's been in charge for an entire offseason and all of this regular season. At a certain point, blaming your inaction on someone else makes no sense. Colangelo reached that point a few months ago.
Hopefully by the time Simmons gets back, the Sixers get this all figured out, because it's a no-brainer that the team builds around Simmons and Embiid (which, of course, is something that can only happen because of decisions made before Colangelo got to town). Of course, with how the team has bungled this entire situation so far, it's hard to assume they will. And it might come at the expense of Noel, in the holiday season no less.