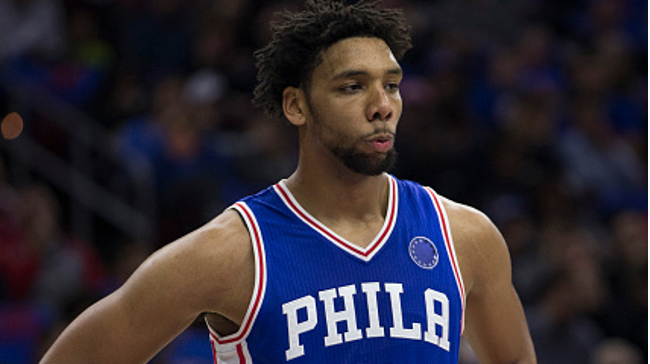 Jahlil Okafor is still on the Sixers, even if it doesn't look like he's going to play any time soon. In the last update on Okafor's standing within the team, Philadelphia coach Brett Brown said that he did not want to play Okafor in garbage time out of respect to the third-year center out of Duke.
Adrian Wojnarowski of ESPN published a story on Okafor in the wee hours of Monday morning, which included a report about the big man's trade value. Wojnarowski wrote that the Sixers keep lowering their asking price on Okafor to the point that they'll now accept a second-round pick for him.
Colangelo's asking price has steadily dropped for Okafor, from two first-round picks to a first and a solid player to where it stands now, a second-round pick, league sources said. As for the politics of giving up on the No. 3 overall pick, remember: Colangelo didn't select Okafor over Kristaps Porzingis in the 2015 draft — his predecessor, Sam Hinkie, did.
For a team that was able to turn Michael Carter-Williams into a potential top-5 pick from the Lakers — albeit under a different general manager — the way that Okafor's stock has plummeted is stunning, as the Sixers are happy to move a 21-year-old who was taken with the third overall pick three years ago for next to nothing. It says a lot about the market for Okafor right now, especially considering how he'll be a free agent after this year.

As for how Okafor feels, well, you can probably guess the kind of mood he's in. Okafor told ESPN that he wasn't happy with how things are going down in the City of Brotherly Love, and that he's even spoken with plenty of people about the uniqueness of his situation.
"I would like for them to just send me somewhere where I can get an opportunity," Okafor told ESPN. "I've done everything they've asked of me and I would just like to get an opportunity to play with a trade or a buyout. I just hope something happens quickly.

"This is my third year in the NBA, and I know it's a business. I don't know if it's fair or not, but in talking to other people in the NBA, talking to retired players, one thing I've heard them say is that what's going on with me isn't right and they've never seen anything like this before.
Additionally, Okafor summed up his situation succinctly: "I know it's business, but in my eyes, I don't know if it's good business."
Okafor has appeared in two games for Philadelphia this season, and has not seen the floor since Nov. 7.
(Via ESPN)