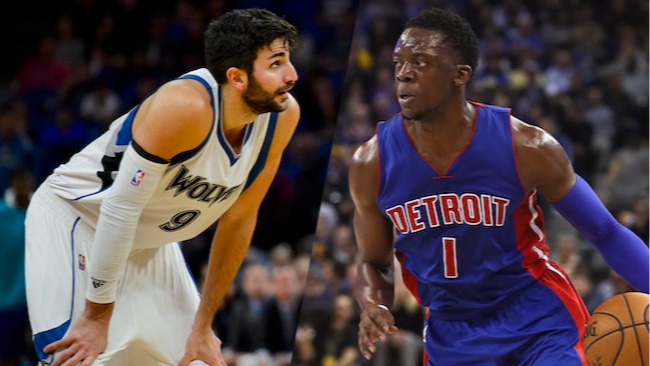 The Minnesota Timberwolves have one of the better young cores in the NBA, with Karl-Anthony Towns, Andrew Wiggins and Zach LaVine ready to develop together in the future. The Detroit Pistons, at least to this point, are floundering when compared to expectations in 2016-2017 and a once-intriguing roster looks to be more lackluster than many would have indicated just one year ago.
Marc Stein and Chris Haynes of ESPN bring word that, in an attempt to solve some issues for both teams, the Wolves and Pistons are actively engaged in trade discussions that would involve a point guard swap of Ricky Rubio and Reggie Jackson.
Rubio has seemingly been on the trade market for years and, with the addition of a top-five pick in Kris Dunn, those rumblings have surfaced yet again this season. On the Detroit side, the Pistons were roundly praised for keeping things afloat while Jackson recovered from an injury in the early going, but Stan Van Gundy's team has struggled mightily in recent days and Jackson's play has been unimpressive.
In some ways, this trade skeleton would be confusing. Minnesota is presumably looking to clear the decks for Dunn at the position and adding a highly-paid player at the position in Jackson wouldn't make too much sense. Still, there is at least some notion that Jackson, who has shot 35.8 percent from three the last two seasons, could function off the ball in a way that Rubio could not. The report also indicates the Wolves could be willing to move Shabazz Muhammad in an effort to sweeten the package for Detroit.
On the Pistons side, simply shaking things up would appear to be the motivation. Jackson is in year two of a five-year, $80 million contract. If he is no longer meshing with the assembled cast around him, the Pistons have to consider moving him due to salary cap restrictions and a pending mega-deal for Kentavious Caldwell-Pope on the horizon. In Rubio, Van Gundy would be acquiring a pure facilitator and a defensive upgrade. While that not might push Detroit over the top, it might be a safer bet for both team chemistry and on-court functionality, and the prospects of a Rubio-Andre Drummond pick-and-roll combination would be intriguing.
It is worth noting that the report indicates nothing "imminent" on the trade front, though discussions were reportedly ongoing this week. Still, any discussion of this magnitude is incredibly interesting even as a thought exercise, and it will be interesting to see if both sides are willing to pull the trigger before the Feb. 23 trade deadline.