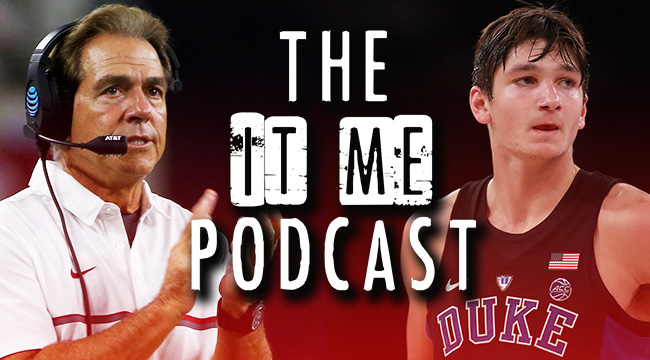 Look at that, it's another year and you're still stuck with the 'it me' podcast. Imagine that. Although as often as we like to joke about everything and discount our own achievements, it feels kind of nice to know there are "publish" dates from 2015, 2016, and 2017 now. Not everything gets this much of a leash (shoutout Freaks and Geeks), and with time I've been proud to bring this podcast to you each and every week. I hope you enjoy it, enjoy our guests, and generally don't hate listening to us from week to week.
There are lots of amazing podcasts out there, and even more bad ones, and hopefully we fall somewhere in the middle.
This week we brought on NBA Draft wizard (college hoops expert, and often Sporting News contributor) Sam Vecenie to discuss all sorts of things. But because it's a New Year, we wanted to double up, so we got Ben Glicksman, articles editor of The Ringer and co-host of The Ringer U podcast, as well. That's how much we care about you. We probably could've talked for another hour, but nobody wants to listen to two hours of podcast.
We discussed:
What NBA player a Roomba would be, and which cleaning appliances are max players
Grayson Allen
The fact that NC Central is doing big things in a region where they don't get any attention at all
Our ideal dunk contest dunks
BAMA
Martin's irrational dislike for watching Indiana football
"Oil Checks" and the media hammering stories (preseason and championship and otherwise) into the ground
And much, much more! (We even give you predictions for the title game. They are not that exciting.)
As always, comments and tweets are welcome. Subscribe to us on iTunes, too! You can find Robby at (@rkalland) and Martin at (@martinrickman). Sam is at (@sam_vecenie). And Ben is at (@BenGlicksman). Sports are great and so are friends, but sports are always better with friends.
Special thanks to the band Annabel for our intro and outro music. They're really good. You should buy their music at their website or perhaps see them play a show some time.