With the improvisational way the game is played, basketball is often compared to jazz. But while the parallels are definitely there, basketball is essentially synonymous with hip-hop. This has led to players often dabbling in rap, as guys like Kobe Bryant, Allen Iverson and even Jason Kidd have made the transition from the court to behind a microphone. The majority of the songs created by players are just god awful, but others are surprisingly quite solid.
Shaquille O'Neal's debut album "Shaq Diesel" went platinum and the Hall of Fame big man released a total of six albums of original material. Metta World Peace has his own record label, released an album, and continually drops new tracks. And then there's Trail Blazers star guard Damian Lillard, who released an album at the start of last season and has been complimented for his lyrical skills by musical heavyweights like Lil' Wayne, DJ Khaled and Kendrick Lamar.
Rapping under the moniker Dame D.O.L.L.A., Lillard has been showcasing his lyrical flow and rhymes for most of his life, but once he entered the NBA, he began to take rapping more seriously.

Taking open submissions, Lillard launched #4BarFriday on social media in 2013 and started a movement for aspiring rappers. He then upped the ante even more by rapping over the instrumental for Jay Z's "Dead Presidents" on SiriusXM's Sway in the Morning show in 2015. The video of Lillard's appearance instantly became viral and thanks to Sway, he was christened as the best rapper in the NBA.
A showman on and off the court, Lillard held his first ever live concert in the summer of 2016 in Portland and sold out the historic Crystal Ballroom downtown. Being a star for the Blazers undoubtedly was the reason Lillard's first show was so successful, and it was also why his debut album "The Letter O" was high on the iTunes hip-hop charts.
Wanting to build off the success of his album and to showcase the other artists on his Front Page Music record label, Lillard held another show on Sunday. This time it was across the Columbia River from Portland in Vancouver, Washington.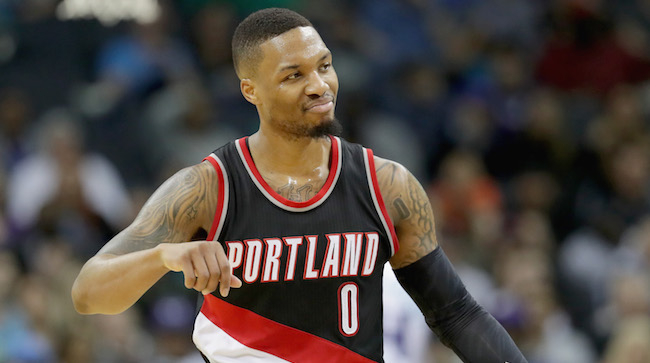 Basically a suburb of Portland, Vancouver is a strange place for Lillard to host a show. But the location was chosen because Lillard and his brother have a relationship with the owner of the show's venue 6 West Lounge. Naturally that relationship is NBA-based, as the club is owned by former NBA player Kermit Washington's son, Trey.
Yet the show's location, the fact that it was taken place on a Sunday and the $50 price tag for a ticket (which was to help the label's artists "fund their music") may have worked against Lillard. 6 West Lounge has a capacity of 400, yet around only 200 tickets were pre-sold and it seemed like even fewer were in attendance. This was surprising, especially considering Lillard's stature among Blazers fans.
Despite this, those in attendance were 100 percent bought into the evening's festivities. A significant portion of the crowd wore Lillard jerseys and/or his signature adidas sneakers. Fans flocked to a merch table and immediately garbed themselves in the various Dame D.O.L.L.A. shirts and hats that were on sale. And ever a man of the people, Lillard himself walked through the crowd at various points, giving dap and taking selfies with fans.
Lillard being so accessible is one reason he is so highly revered in Portland. That theme was quite visibly throughout the entire show. Lillard stayed to the side, grooving to the music from the slew of openers and then, without much fanfare, joined Brookfield Deuce on stage for the rapper's final song before starting his own set.
Rocking a backwards hat, a "Letter O" t-shirt and a shiny gold watch, Lillard wore a smile throughout his entire set. He was in his element amongst fans that adored him. His family was also in attendance — Lillard called for his mom to join him on stage at one point and the two danced together as the DJ played some old school jams.
This, of course, led to what happens at every rap show: The stage was just filled to brim with people Lillard called his "cousins" dancing for the entirety of his set. But there was also the heartwarming aspect to it all, especially since there were actual members of his family on stage who were there to support Lillard and see the Blazers star shine in a different venue other than a basketball court.

Lillard's confidence on stage and throughout the set was expected considering how he plays. He sounded similar to how he did on his album — nothing extraordinary but technically sound and overall very good. He was also expertly able to get the crowd hyped with stage banter, making the venue explode in cheers when he exclaimed, "I rep Rip City, like it's my real city."
Lillard's teammate Evan Turner inquired and joked about the show on Monday, asking if it was lit, which is debatable. But that wasn't even the goal of the show. All Lillard wanted to do was showcase and empower the artists on his label and perform songs from "The Letter O" for the first time. He did both of those things and the crowd's appreciation for his renaissance ways was apparent.
Lillard is well aware of this and knows how much weight he carries as the star of the Blazers, a team that operates in a small market and whose fans are die-hards. He continually embraces this role and his show was just an extension of how closely tied together Lillard is with the Blazer fan community. They appreciate him for him and in turn, Lillard does the same.
"I really appreciate all of y'all," Lillard said to close out his show. "I appreciate y'all supporting me not being a basketball player."