Maybe the thing that speaks best to how quickly the Portland Trail Blazers climbed up the rebuilding ladder is that their biggest offseason questions revolve around a pair of role-playing restricted free agents. Allen Crabbe and Mo Harkless enjoyed breakout seasons in 2015-16, going from basic league-wide afterthoughts to key cogs for a team that pushed the 73-win defending champions to one of the most competitive five-game playoff series in recent memory.
The Blazers, like the NBA at large, are flush with financial flexibility this summer. They have enough space below the cap to sign a pair of max-level free agents, and a consensus status one of basketball's most promising yet quality teams should make them a potential destination for the elite players who will command that salary slot.
Who wouldn't want to play for a top-flight organization led by Damian Lillard and C.J. McCollum and coached by Terry Stotts? Most available players, actually.
Portland has become notorious for its well-documented inability to land big-time free agents. Though its shocking performance this season suggests that might change come July, a far more likely reality is that Neil Olshey and company will only be granted sit-downs with players on the secondary and tertiary tiers of free agency. Not ideal, right? But here's the thing: Barring Kevin Durant uprooting for the Pacific Northwest in lieu of his hometown, California, or the Alamo City, the Blazers might be best served by counting on internal means of improvement more than a splashy offseason addition.
Crabbe, Harkless, Al-Farouq Aminu, and Mason Plumlee each exceeded expectations in 2015-16 and possess ample room to grow. McCollum established himself as an electric playmaking guard, Ed Davis justified the long-term contract some doubted he deserved, and Lillard – an All-Star each of the previous seasons who missed the cut in February – developed into the foundational cornerstone front-office higher-ups gambled he'd be when they willingly tore down a winning team this time last year.
The only player on Portland's roster who didn't surpass his predicted level of performance was Meyers Leonard. Even the exceptionally raw Noah Vonleh provided flashes of optimism with regard to the future.

This team obviously isn't good enough to challenge for a championship right now, and won't be going forward as currently constructed. The Blazers are in dire need of an ancillary perimeter playmaker. They lack a credible rim-protector to make up for the inevitable defensive shortcomings of pairing Lillard and McCollum, and don't have a player cut straight from the ultra-valuable '3-and-D' cloth.
It stands to reason none of those shortcomings will be completely addressed by incumbents. Crabbe is best utilized playing without the ball; Plumlee, Davis, and Vonleh don't quite have the physical profiles to become premier back-line defenders; Aminu and Harkless seem destined to top out as merely viable long-range shooters, while Crabbe just isn't gifted enough athletically to emerge as Portland's proverbial stopper.
The Blazers will eventually need to upgrade their level of talent. That's true of pretty much every non-Warriors team in the league, though, and the ever-burgeoning cap combined with quality of the 2017 free-agent class, major raises due Crabbe and Harkless at least, and the timeline of this core's championship window means simply staying the course is its best route to long-term contention.
The Western Conference could be in a major state of flux next season. Only Golden State and the San Antonio Spurs will be assured of contender status. Course-altering changes might come for the Oklahoma City Thunder, Los Angeles Clippers, Memphis Grizzlies, Dallas Mavericks, and Houston Rockets. The Utah Jazz and Minnesota Timberwolves are bound to take steps forward, and the New Orleans Pelicans will inevitably be better, too.
But notions that Portland could be left sitting on the postseason sidelines 11 months from now if it fails to add a meaningful piece this summer aren't considering the big picture. Stotts' club proved its regular season was no fluke by consistently forcing the Warriors to flex championship muscles with and without Steph Curry in the lineup. The only real possibility that could keep the Blazers from next year's playoffs, basically, is health, and the threat of a biting injury bug shouldn't be enough for a team in this stage of development to mortgage even a small part of its future for present security.
Portland, on the strength of a classic leader like Lillard and remarkably prudent personnel decision making, might be brewing something special. It takes time to forge a lasting culture, and the Blazers have already done it despite wholesale roster turnover that began less than a year ago. Most veteran teams don't do things like this, let alone ones with an average age of just 25.
And that's exactly why Portland should exercise patience in the offseason. These guys aren't even close to reaching their peak, and their unique sense of camaraderie gives them a better chance of doing so than most other players at similar stages of growth.
If Aminu capitalizes on his eye-opening play against the Warriors with further improvements as a shooter and attacker, it will inform how Olshey continues building the Blazers from the outside. That same line of thinking applies to Harkless' comfort as a small-ball power forward, Leonard's health, Vonleh's overall game, Portland's collective defensive understanding, and so many more factors made especially hopeful by this team's commitment to getting better together.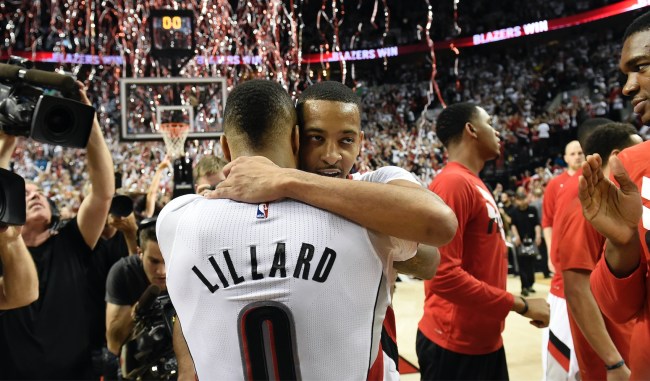 One year simply isn't enough time for anyone to even pretend to know what the Blazers will be going forward. All we know is that 2015-16 made it clear their future is much brighter than anyone anticipated.
This is indeed a huge summer in the Rose City. Yet when it ends with not much more than matched offer sheets for Crabbe and Harkless and whispers of a contract extension for McCollum, an easy assumption will be that Portland missed a golden opportunity to take advantage of its league-darling reputation. In reality, however, a quiet offseason will ensure the Blazers maintain that enviable status throughout next season – after which they'll be much, much better equipped to reap the long-term benefits gleaned from it.