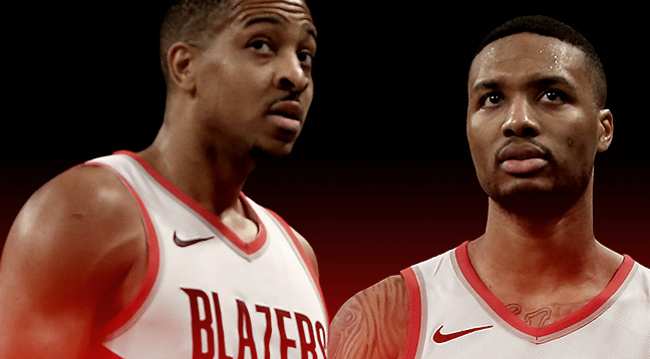 For the past decade or so, the Portland Trail Blazers haven't necessarily been a good barometer for what a successful season looks like. They've always been a little queasy about the building process, and the result has been exactly what we've seen for the past 5-6 years: A pretty good team that usually makes the playoffs before getting bounced in the early rounds.
A lot of franchises around the league would love that type of consistent success. You might even argue that it's a refreshingly healthy perspective in a sport that puts so much emphasis on winning championships. The problem is that this approach can, after a while, feel less like an admirable example of consistency and instead make it feel like an organization is happy with having a defined ceiling.
At some point, the Blazers will have to re-evaluate their approach. That point could come at the end of this season if they find themselves struggling to qualify for the playoffs. Yes, it's crazy to think about given that they finished with the No. 3 seed in the West last season, but you can argue that third place finish also came as a result of the Blazers benefitting from the misfortune of others.
The Jazz, Pelicans, and Spurs all suffered major injuries to star players, while the Thunder struggled with chemistry and consistency problems. When you factor in newcomers like the Nuggets (which, also, played more than half of last season without Paul Millsap), Lakers, and even a much-improved Mavs squad, the Blazers could find themselves on the outside looking in, especially if they get off to a slow start.


Part of the issue is how Portland approached this summer, namely due to the fact that some key contributors left for other pastures. They lost Ed Davis, an instant energy guy who provided defense and rebounding; Shabazz Napier, a dependable backup point guard; and Pat Connaughton, who emerged a legitimate outside threat last season. None of those losses spell disaster, but the front office also managed to get next to nothing in return.
Which brings us back around, as usual, to general manager Neil Olshey. The team has been sandbagged with bad salaries since the 2016 offseason, a situation that's been compounded by underwhelming draft picks, an inability to package assets to try and swing larger deals, and a fatalistic approach to attempting to lure marquee free agents.
But make no mistake, it isn't just Olshey's job that's potentially on the line. Head coach Terry Stotts has plenty to answer for after the Blazers' ugly showing against the Pelicans in the opening round last spring. Despite engineering a free-flowing motion offense in Portland during his tenure that has highlighted the best of what Damian Lillard and C.J. McCollum have to offer, he was inflexible about altering his gameplan after New Orleans effectively neutralized the Blazers' star backcourt, falling back on the old "play harder, execute better" philosophy that wasn't able to get results. There's no absolution for Dame and C.J., either, because regardless of what's coming from the sidelines, they're the ones on court, and they have to make adjustments accordingly.
A big part of what was propping up the Blazers last season was their defense, which was among the best in the NBA, an anomaly in the Stotts/Lillard/McCollum era. With Davis gone, Jusuf Nurkic is their only real anchor in the paint, and he's been inconsistent during his time in Portland so far. He got rewarded with a four-year, $48 million contract this summer, which pushed the team over the luxury tax threshold and made future dealings even more difficult.


A lot can happen over the course of a season, but taking everything into consideration, the Blazers could be fighting for their playoff lives next spring. Whether they make it might be almost irrelevant. A seventh or eighth seed finish will likely mean another hasty exit, and it begs the question of whether it will be enough to keep the current incarnation of the team spinning its wheels for yet another season.
Missing the playoffs entirely might be the nasty dose of medicine they need, and that won't just mean a potential coaching or front office shakeup. All of the familiar questions about whether Dame and C..J can coexist together will once again come rushing to the surface, and that's not necessarily a bad thing. Those are questions that need to be asked, no matter how uncomfortable.
Dame has already grown antsy about squandering some of his prime years on a really good-but-not-great team, because he wants to compete for championships. He's taken those concerns all the way to the top, and enigmatic owner Paul Allen has, at least, paid some lip service to them.
The good news is that Dame has remained steadfast about his loyalty to the organization, the fans, and the city, as has C.J., and when they're playing at the peak of their collective powers, they're a force to be reckoned with. The fans are ride or die because of that. It's a beautiful thing. That also means that the pressure to reach higher will have to come within the organization itself.
It's a joy to watch a team like this exceed expectations, as they have in the past. It's one of the most thrilling and edifying experiences in sports. But they ultimately want the same thing Dame wants. The question is how to get there from here, and the answers are anything but clear.