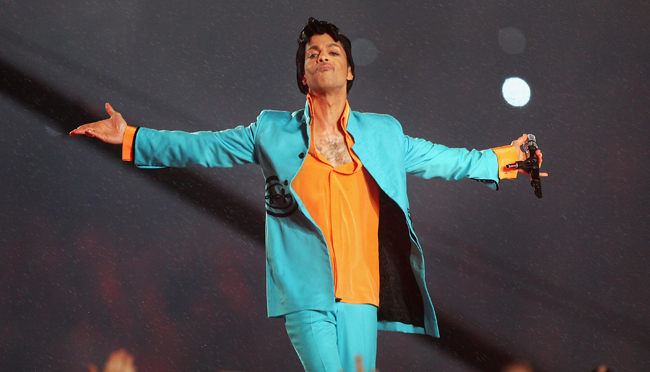 Quick, what's the most distinctly Prince basketball-related thing you can imagine? No, don't quote Chappelle's Show. Something else. Did you say, "Play a three-hour private concert at his house for the hometown Minnesota Lynx to celebrate their WNBA championship?" Because you were correc-… wait. You said, "The time he rented Carlos Boozer's $12 million house and painted the whole thing purple?" Well, crap. That's a good one, too. But the first thing is more recent, so let's go with that.
According to the Star Tribune, which has a full rundown of the festivities, Prince did just that Wednesday night at his Paisley Park home. And it sounds incredible.
Prince started the party with "Purple Rain" shortly after 12:30 a.m. even though the champs hadn't arrived yet. Within a few hits including "Let's Go Crazy," he was showing his respect, congratulating the Lynx "on a job well done." On the two video screens in the NPG Music Club, a newly made slide featured the Lynx logo and the words "2015 WNBA Champions."
So, two things:
1) Prince will not wait for you to appear at the celebratory concert he is throwing in your honor. If you are not there when Prince is ready to begin, freshly won championship be damned, Prince will start your concert without you.
2) Prince opened with "Purple Rain?" My God. "Purple Rain" is maybe the greatest concert closer ever — top 10, easy — and he's just out here burning it off like "whatever" before the guests of honor arrive. Prince is the greatest.
The concert lasted for hours, with Prince playing the hits, and noodling around, and inviting some of the players on stage to dance. Maya Moore, the Lynx four-time All-Star forward, described the whole thing as "unbelievable," which sounds about right.
Unfortunately, even marathon free concerts at Prince's house to honor the WNBA champions must come to an end at some point, and this did in pretty much the only way it could have.
It was three minutes before 4 a.m. Prince, the party man in black with a black stocking cap, bowed, walked off the stage and headed into the crowd. When he got into the middle of the dancefloor, he feigned like he was going to fall over from exhaustion. He steadied himself and marched off like a champion.
I repeat: Prince is the greatest.
(Via SBNation)