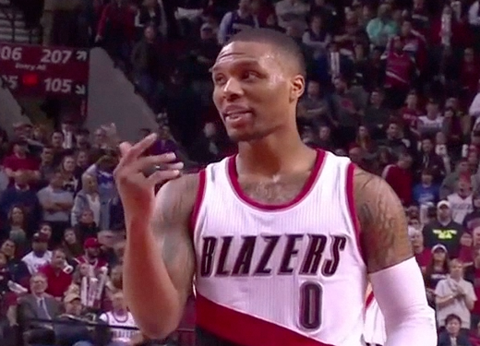 There are all sorts of things basketball players need to be able to do on the court, which they usually do through repetition and practice. But purposely missing a free throw doesn't come up enough in a game to warrant much of said practice. Perhaps that's why most of are pretty bad any time they endeavor to do so. But Damian Lillard showed off that very ability in the last second of Portland's 103-102 win last night.
After Trey Burke hit a three-pointer to make it a 103-102 game with 0.9 seconds left, LaMarcus Aldridge quickly inbounded to Lillard, who was promptly fouled with 0.4 seconds remaining.
Lillard's first free throw rimmed out. So he was left with a choice, one he asked coach Terry Stotts about from the charity stripe. He could hit the second free throw to extend Portland's lead to two, but that would also give them an opportunity to use their last timeout and advance the ball to mid-court for a chance at a Derek Fisher miracle. Or, he could intentionally miss the free throw — within the rules — to run the rest of the clock out before they even get a chance to take a game-winner.
We're pretty sure we've already given away which route Dame elects to go with. But first, he let his team know his intentions so they weren't caught off guard.
Then, like a pro, he perfectly clanks it to the left of the rim, and time expires as the rebound bounced around under the opposite iron:
Lillard's skill missing the free throw is akin to hustlers in a pool hall purposely missing a shot, while making it seem like they're trying to sink it — thereby opening up their mark for a more lucrative wager. It's probably more difficult then actually hitting the shot, and it certainly requires more pinpoint accuracy. So you gotta commend Dame for making it happen and securing the win without leaving a sliver of room for Utah to come back.
(video via reddit)
Can you find another example of a player screwing up the intentionally missed free throw?
Follow Spencer on Twitter at @SpencerTyrel.
Follow Dime on Twitter at @DimeMag.
Become a fan of Dime Magazine on Facebook HERE.