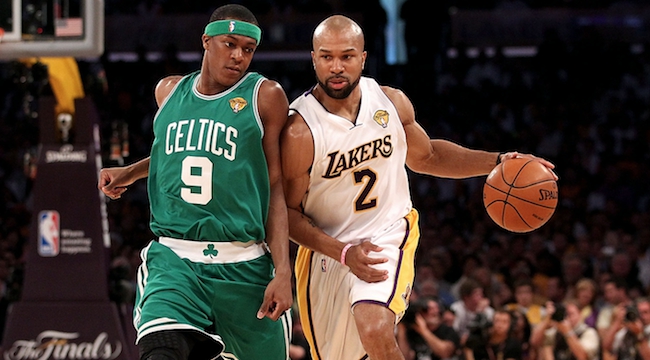 Let's set the Way Back Machine to one month ago, where Rajon Rondo said the Triangle offense probably wouldn't be a good fit for him. It was harmless, observant, and probably true. Rondo wasn't dissing the triangle, just merely saying it wouldn't really suit his strengths.
Derek Fisher, for some reason, took offense to that, insinuating that Rondo only thinks the Triangle wouldn't be a good fit for him because he struggled against it when Rondo's Celtics faced the Lakers. Fisher may no longer be the coach of the Knicks, but Rondo wasn't going to let that insult fly, even a month after it happened.
If you're going to insult a player, maybe make sure you can back up your insult with facts. Rondo enjoyed a coming out party against the Lakers in 2008. And, sure, the Lakers did get their revenge against the Celtics in 2010, but Rondo played like the star he'd become in that epic NBA Finals rematch.
It's fortunate for the Knicks that Fisher isn't their coach anymore, and not just because, you know, he wasn't a good coach. Knowing Rondo, he would have made it his sole mission to destroy the Knicks and carve up the vaunted Triangle, just to prove a point.