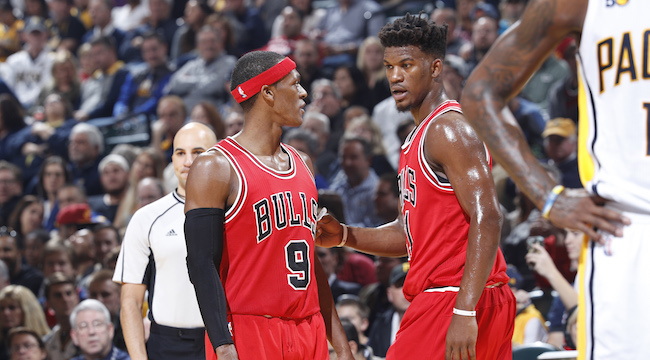 The Chicago Bulls locker room is a bit of a disaster right now, with Dwyane Wade and Jimmy Butler publicly questioning the effort of the rest of the team.
Now, Rajon Rondo, who recently lost his spot in the rotation, has decided to speak out and it's clear that he's had enough of Wade and Butler. Rondo took to Instagram to rip into Wade and Butler, saying his vets would never go to the media before the team in a lengthy Instagram caption next to a photo of himself, Kevin Garnett and Paul Pierce with the Celtics.
My vets would never go to the media. They would come to the team. My vets didn't pick and choose when they wanted to bring it. They brought it every time they stepped in the gym whether it was practice or a game. They didn't take days off. My vets didn't care about their numbers. My vets played for the team. When we lost, they wouldn't blame us. They took responsibility and got in the gym. They showed the young guys what it meant to work. Even in Boston when we had the best record in the league, if we lost a game, you could hear a pin drop on the bus. They showed us the seriousness of the game. My vets didn't have an influence on the coaching staff. They couldn't change the plan because it didn't work for them. I played under one of the greatest coaches, and he held everyone accountable. It takes 1-15 to win. When you isolate everyone, you can't win consistently. I may be a lot of things, but I'm not a bad teammate. My goal is to pass what I learned along. The young guys work. They show up. They don't deserve blame. If anything is questionable, it's the leadership.
There's a lot to sift through with this, but Rondo definitely doesn't hold back. The parts about "my vets" not caring about their numbers, playing for the team and taking responsibility seem to be the most pointed criticisms of Wade and Butler. He also closes with "if anything is questionable, it's the leadership."
This is essentially Rondo taking a torch to any relationship he had with Wade and Butler (remember, the Three Alphas right?!). Rondo has a point. Athletes never like when a player takes team business to the media (this is how Jabari Parker got benched by his teammates), so there are plenty that probably agree with Rondo that Wade and Butler haven't handled this great.
My favorite part of all this is where he says "I may be a lot of things, but I'm not a bad teammate," which some folks in Sacramento, Dallas and Boston might disagree with.
As for how Rondo's Bulls teammates are taking this, there could be a divide coming between those that side with Wade and Butler, and those that agree with Rondo. We've got an idea of where Bobby Portis stands on that debate after Rondo's post went up.
Then we have the best part, which is Dwyane Wade smashing that like button because you don't slip a subtweet/sub-Instagram post past Mr. Wade.

The Bulls are off tonight, but I have to imagine shootaround tomorrow morning is going to be very interesting as they get ready to face the Heat. After all of the shenanigans from Wade and Butler on Twitter and speaking to the media over the last week and now this as the cherry on top, I'd set reports of a "players only meeting" happening tomorrow at about 1-3 odds.