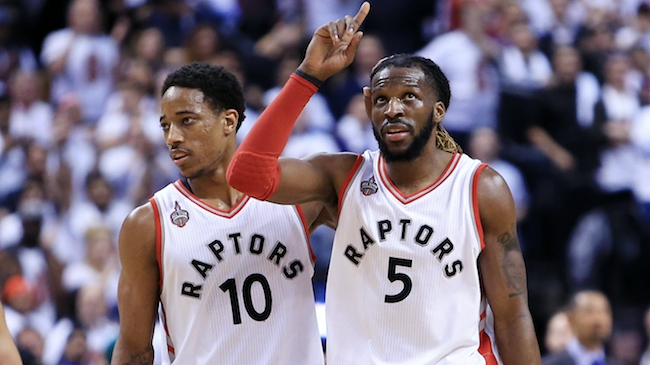 Playoff jitters are definitely real, no player has a completely clean bill health this time of year, and the nagging aches and pains of veterans are made worse by intensity of the postseason spotlight. None of that's up for debate. Those are just some of the many inevitable and unfortunate realities that always accompany spring-time basketball.
But the Toronto Raptors and Miami Heat aren't the only teams left competing for a championship dealing with mitigating factors. What plagues Kyle Lowry and Dwyane Wade does LeBron James and Kawhi Leonard, too, but you wouldn't know it by watching any of the three other playoff series taking place outside Ontario and South Florida.
The Raptors beat the Heat 96-92 in overtime on Thursday, evening the teams' Eastern Conference Semifinals bout at one game each. It was a wildly competitive affair from the opening tip, with both squads trading blows from which it appeared the other was unlikely to recover.
Toronto led by 14 early in the second quarter on the strength of shot-making that's eluded it since the playoffs tipped off three weeks ago. Miami was up 69-63 with 10 minutes remaining in regulation after some classic bucket-getting from Joe Johnson and canny playmaking from Goran Dragic.
And that's essentially Game 2 – and this series so far – in a nutshell: The Raptors or Heat doing just enough to build small leads that still seem insurmountable due to the other side's complete inability to function like a modern NBA outfit.
Crunch time has somewhat obscured that depressing reality. Lowry and Jonas Valanciunas went 4-of-4 down the stretch of the fourth quarter to complete their team's comeback, and Wade and Dragic connected on a pair of triples in the final 40 seconds to ensure theirs would have the chance to steal victory in the extra session.
But those plays weren't bastions of ball movement, execution, or even ingenuity – not even close.

Lowry took advantage of the Heat's conservative pick-and-roll defense by drilling a pair of off-dribble jumpers. Valanciunas popped after setting a ball screen to make a 15-footer and then out- muscled and hustled two defenders for a tip-in after another missed Raptors free throw. Wade simply dribbled into and connected on a heavily-guarded, off-balance triple. Even Dragic's wide-open three-pointer to tie the score at 86-86 with 10 seconds remaining was more about Toronto's mistake – DeMarre Carroll inexplicably leaving the lefty to help on a stymied dribble drive by Johnson – than Miami's success.
The final play of the fourth quarter, actually, approximates Game 2 better than any simple recap or long-form feature could.
http://i.giphy.com/lbrRQ9P59KkRq.gif
Look, this isn't about criticizing Toronto and Miami. These teams are fighting the absolute hardest they can to play their best when it matters most.
Lowry deserves credit for shooting through self-doubt and an oversized elbow. Wade warrants praise for making late-game plays that bely his age and relative lack of athletic dynamism. Valanciunas and Dragic were excellent at times on Thursday, and DeMarre Carroll and Luol Deng made major offensive contributions while limiting star players on the other end of the floor. Terrence Ross and Gerald Green even made a legitimate impact in Game 2.
Still, it's impossible to ignore that the Raptors and Heat fall far behind their competitors in terms of quality of play. Anyone extolling this series' virtues of "throwback basketball" or "defensive-mindedness" just isn't watching closely enough. It's not extreme physicality or dominant defense that's led to consistently contested shots and one-pass possessions, but the inability of Toronto and Miami to crease the paint, move the floor, and resist settling for good attempts when great ones could be produced.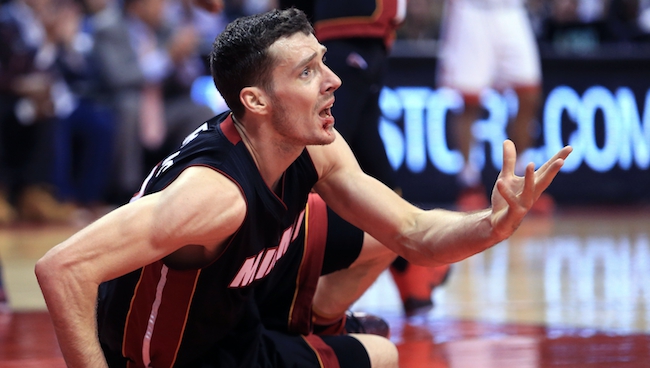 None of this should be surprising. Lowry and DeRozan lead an offense that ranked last in assist percentage during the regular season. Wade has too often resorted to over-dribbling throughout his Hall-of-Fame career, and Dragic still hasn't quite assimilated to the extent it's necessary for the influence of his attacking gifts to be unleashed. Ross and Valanciunas and Johnson and Whiteside aren't exactly playmakers, either.
Nobody expects the winner of this series to go anywhere meaningful. The Cleveland Cavaliers were prohibitive Eastern Conference favorites when the postseason began and have only strengthened their vise grip on that status in the interim. Struggles of the Raptors and Heat haven't really changed anything, basically.
Well, except for league-wide trends toward the offensive ethos that's come to define basketball's current era. Fortunately for all of us, though, the Cavaliers, Golden State Warriors, and San Antonio Spurs have lived to play, too – and they will be the teams representing this game on its biggest stage come June.