The NBA is littered with stars and incredibly talented players, but a majority of the league is players on the fringe. A lot of guys are an injury, a falling out, or an extended shooting slump away from being on their way out the door. And no one is necessarily safe from losing out on their job to another hard-working individual. Sometimes, it could come down to fit, culture, attitude, talent or a little of everything. That's why you see so many NBA players doing whatever they can to stay ahead of the curve and differentiate themselves from others.
All it takes is one simple, yet perfect moment, but you have to be ready. When Steph Curry was asked to start, he never looked back. When Wesley Matthews left Portland C.J. McCollum was asked to take on a bigger role, he did. It could be as simple as meditation to be prepared or it could be what Rashad Vaughn of the Milwaukee Bucks is doing, reducing his sugar intake and strengthening muscles he's probably never used before.
Vaughn, a standout in Vegas Summer League play is a third-year player trying to earn more time and grow as his young, promising team does as well. A former UNLV standout, Vaughn has overcome the obstacles that many young first-round draft picks face when trying to establish themselves in the league.

"I'm at the crossfit games with Zevia just trying to observe what these guys [CrossFit athletes] do, trying to pick up what I can." Rashad told DIME late last week.
The Crossfit games which were held in Madison, Wis., had a variety of different workouts to be seen. From stationary bikes to ropes to weight lifting and much more, Vaughn certainly learned his fair share of new and innovative workouts to possibly help with his offseason training. With varying degrees of difficulty and workouts that combine gymnastics, weightlifting and metabolic conditioning, it's bound to help players like Vaughn looking to get over the top.
"I'm on a bike now, there's boxes in front of me with medicine balls, weights, some ropes, just a lot of things and they all push your body in different ways." Vaughn told us.

Coming into the league as a raw, unproven rookie, and now developed into a sizable, offensively gifted talent, you never know what you'll get with Vaughn. He penetrates the lane strongly, can shoot the basketball fairly efficiently and scores with virtual ease, but he can struggle at times with his versatility. Vaughn is working to improve that by working on muscles that have never been worked and creating a better diet so that he can play at a higher level.
Vaughn currently uses the team chef and nutritionist but admitted that reducing sugar in his diet was something he needed to do.
"I told my chef the plan for the summer and it was to reduce my sugar intake," Vaughn said. "Sugar isn't good for you for a lot of reasons and so I've just tried to reduce the amount I'm taking in and he's helped a lot with that."
Vaughn is one of many young, budding stars on this Milwaukee Bucks team. MVP candidate Giannis Antetokounmpo, Rookie of the Year Malcolm Brogdon, promising big-man Thon Maker, the always-steady Khris Middleton, Jabari Parker (coming off injury) and others made up one of the youngest playoff rosters in the league at an average age of 23.5 years. Their coach Jason Kidd is also young in coaching, so the team as a whole is looking to do whatever they can to stay ahead of the curve.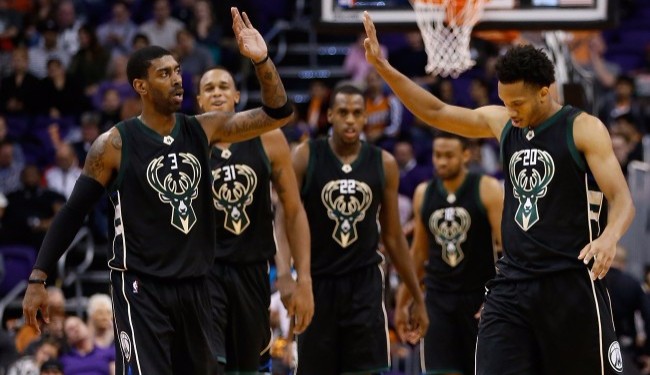 Vaughn, a Vegas Summer League MVP candidate, is looking forward to next season both for his team and himself, individually.
"We just need to improve on last year," Vaughn says. "We got a taste of the playoffs and now we just want to progress and get better. We got a lot of hungry guys, guys who want to get better and I'm just excited for the next season. For me personally, I'm just looking to take on whatever role is asked of me. I look forward to playing a bigger role on this team and just helping this team get some more wins."
Nicknamed Mr. Showtime in high school for only being able to dunk, Rashad has certainly become more versatile to the point where that nickname doesn't even mean the same thing as it once did.
"I'm just trying to hone in on my skills offensively, trying to become better as an all-around scorer," Vaughn says. "I've been watching lots of film and staying in the gym all offseason just trying to get better anyway I can."
Vaughn and the Bucks are certainly going to be a force to be reckoned with out East. With top-level talent and young, progressing players, the team as a whole should be stronger than last year. With their combination of length, size and depth, they could be one of the scarier teams to face in the playoffs.
What Vaughn is doing isn't unusual or new, but the fact that a basketball player like him is trying to gain a competitive edge – like CrossFit and sugar-reduced diet – gives you an indication of the dedication and work-ethic that he possesses. And the razor thin margin separating true contributors from clingers in the league.