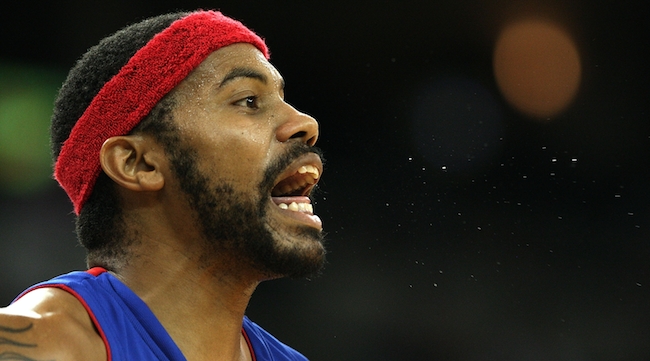 Happy Birthday to the scourge of referees everywhere and the stalwart defender of the integrity of basketballs (they do not lie), Rasheed Wallace! Rasheed turns the big 42 on Saturday, which is pretty much the number of technical fouls he accrued in the 01-02 season. A larger than life presence, Rasheed's gregarious yet grumpy personality left an indelible mark on an NBA transitioning from one era of greatness to another.
But let's never forget perhaps the most important Rasheed Wallace moment. When asked which superhero he would be, Rasheed naturally threw a curveball. With barely any hesitation at all, he chose…
Yes, Magneto. With Spiderman, Batman, Superman, Wonder Woman, and literally every other superhero still on the board, Rasheed straight up went for the X-Men's archenemy. It makes perfect sense, of course. Here are two misunderstood dudes, often being cast as the villain by decorum obsessed self-righteous adversaries (Professor X, every referee in the NBA), who nonetheless possess otherworldly talents and utilize them somewhere in that space between good and evil.
That was the joy of watching Rasheed. There was danger in every possession. Maybe he'd nail a half-court buzzer beater or maybe he'd score on his own basket; those are just the risks when someone flies too close to the sun. Though heroic in many respects, he often seemed to draw the ire of the casual fan and was often pegged as sort of a malcontent goon. Again, aside from just being hilarious, this makes his affinity for Magneto feel extremely logical. Magneto, who, over the years, has often been portrayed as a hero, will probably never live down his reputation as the guy who founded the Brotherhood of Evil Mutants. Rasheed, a brilliantly wacky player who won a championship and probably should have won two more, will never live down his reputation as a ref agitator.
Anyway, Happy Birthday to Rasheed Wallace, a true and genuine American original. Can't wait for the Golden State Warriors to sign him as a player-coach!