Yesterday Rasheed Wallace turned 41. We should have been ready, but we were rushing to commemorate the Zen Master, which is weird because we — the basketball blogger niche — venerate Sheed a whole lot more. Even the oldest among us who remember Phil before he went Hollywood.
Rasheed Wallace is a basketball blogging institution. There's a pretty popular Yahoo website named after his most famous utterance. You know the one, it got him tossed from a game during in the twilight of his career with the Knicks.
Perhaps Sheed speaks to the petulant child in all of us, the one who refuses to buckle under the passage of time's the slow stabs of conciliation. Sheed don't mess around. He says what he wants when he wants, and then goes back to sitting on his couch. He is all of us while simultaneously being one of the most unusual basketball players in the history of the Association. Wallace is perhaps one of the most talented power forwards in the history of the game, a Stretch four before that was even a term, but one who could also back you down on his butt and hit a nice little bank-shot from 10 feet.
Except, while Sheed wouldn't mollify his Sheed-ness in front of the media, he deferred to less-talented teammates all the time in Portland, Atlanta (remember those two games!), Boston, New York and especially in Detroit, where he found the perfect squad to compliment his game and IDGAF persona. Who can forget Sheed carrying around a championship belt after Detroit won the 2004 title, or just how underrated those mid-aught Pistons squads were (the Detroit Pistons routinely get screwed whenever people talk about late 1980s and mid-2000s NBA; love you Andy).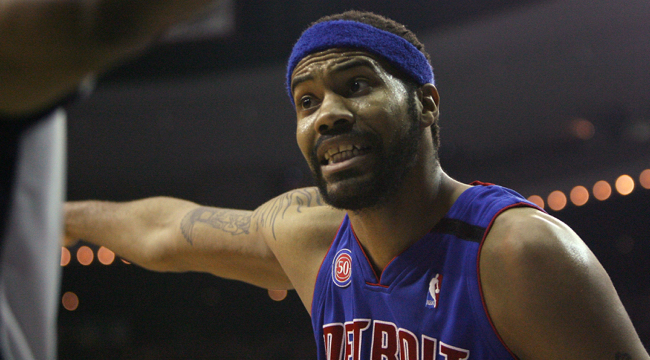 Except, Sheed was also a whirlwind of annoying complaints during games, and because of this, NBA refs singled him out for his behavior all the time. Ron Garretson once whacked him with a second technical, and immediate ejection, simply for staring at him in an "intimidating" manner on the court (this was after he got T'd up while on the bench).
Wallace is the career leader in technicals, accruing 317 over the course of his 16-year NBA career, and he achieved an NBA record by picking up 41 technicals (for the math-averse, that's one every other game) during the 2000-01 season with Portland.
For comparison's sake, DeMarcus Cousins is now known as the most technical-heavy NBA player of the last five years after finishing in the top 5 for techs during each season he's been in the league. This despite last fall's pre-season goals and behavior that appeared to change under old coach Mike Malone (Cousins finished with 14 on the year, after Malone was canned.).
But in a single season, DMC hasn't ever equaled half the total Sheed picked up in 2000-01, and the next-closet single-year total was the season before (1999-2000) when Sheed picked up 38! Besides that two-year stretch, Sheed had the third highest total in 2004-05, when he had 27, but only a handful of players have ever cracked the 20-technical mark in a single season, and Sheed more than doubled it. Technical foul numbers don't lie.
Why are we dredging this all up, you ask? Because there appear to be some discrepancies in the long-held belief that Wallace was actually better after a ref T'd him up. He's actually closer to the inverse of Cousins, which this handy infographic proved on Thursday.
While Free Darko's book used supposed (it's buried in our library somewhere and we'll get around to reading it some day) quantitative evidence Sheed played better after a technical, and Mr. Big Shot Chauncey Billups claimed he'd actually tell refs to T up his teammate so he'd start playing better, recent numbers suggest differently, as @NBAayy showed in another infographic comparing his per-36 minute averages before and after receiving a technical during that record-making 2000-01 season.
Not content to look just at his history-making season, Reddit username noahsbun (we think it's @nbaayy, but we're too lazy to find out), also looked at Wallace's before and after technical numbers during the 2004-05 season, when he had 27 technicals and played for a Pistons team that would return to the Finals that season (losing to San Antonio in seven games that only seven basketball fans actually watched — we were one of them, and loved it!).
Wallace's numbers are again better before he gets a technical foul, turning Chauncey's quote, and Free Darko's numbers, on their head.