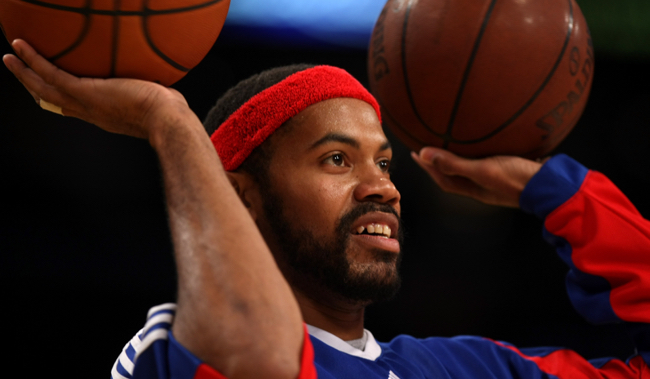 Rasheed Wallace shot under 30 percent in his final season with the Boston Celtics. He sank 31.9 percent of his triples during his actual final season in New York, but was routinely connecting on better than 35 percent during his last four seasons in Detroit and even during his time in Portland, when he spent a lot less time stationed behind the arc spacing the floor for his team. This is all a long way of saying that Wallace was a bit of a stretch four progenitor. Sure, he got ink for first coining "Ball don't lie" on the court — coincidentally the Yahoo blog where we first saw the video we're writing about — and for the ejections, so, so many ejections. But he was an incredibly talented basketball player when he was engaged, and never is that more apparent than this trick shot that's been going around since Pistons guard Brandon Jennings uploaded it to Twitter.
Sheed still got it pic.twitter.com/ajT4mlLEnK

— Brandon Jennings (@thinkiminthe90s) November 30, 2015
Yeah, that's really hard to do. Not even the Harlem Globetrotters are breaking that out. To have the range, the ambidexterity and the strength to sink two three-pointers with opposite hands at the same time is incredibly rare. We doubt even Steph could pull that out of his bag of tricks.
'Sheed may be "sitting on his couch and getting fat," but his hand-eye coordination hasn't suffered in the down time.
Wallace had been an assistant coach in Detroit after his retirement in 2013, but when Stan Van Gundy took over in the summer of 2014, Rasheed was not retained. But that doesn't really matter. Basketball bloggers and fans of a certain age, those who saw him in his prime with the Blazers and Pistons, will always retain him in their hearts. This recent trick shot is just another excuse to nostalgically look back at a truly unique player and person.
(H/T BDL)