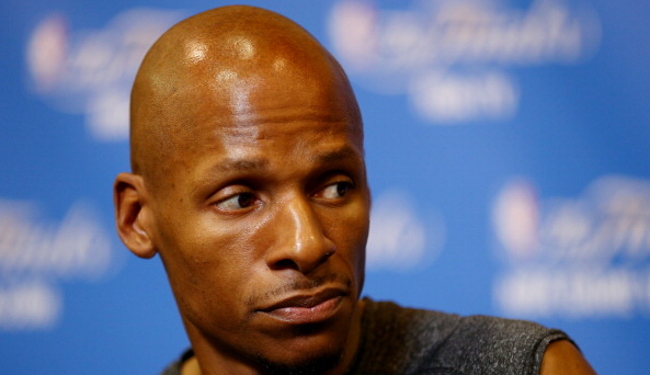 The basketball world will celebrate a handful of its most prominent members this weekend, as the Basketball Hall of Fame enshrinement ceremony will take place on Friday night. Ray Allen is among the headliners of the class, and despite the fact that he formally retired in 2016, he hasn't taken the floor since the end of the 2013-14 season as a member of the Miami Heat.
The end of Allen's career was kind of odd in that his name kept popping up in rumors about a potential return, but he never found a situation he liked enough to return to the league. That was the prevailing narrative, at least, but it turns out Allen was kind of done with everything upon the end of the 2014 season.
Allen spoke to Shams Charania of The Athletic during the lead-up to his Hall of Fame induction and was asked about a potential return once his final year with the Heat ended. While Allen believes he can still compete today if he had to, he claims there was never a comeback in the cards, as there was no opportunity that piqued his interest.

"I was never close to coming back, man," Allen said. "Nobody presented anything tangible to make me question and say, 'You know what: I like this opportunity, it's sound, it makes sense. Let's look at this.' Nobody did that. So I stayed retired. As much as I put in to being prepared, it's tougher as an older player to stay ready because you get tight quicker. So I was curious what teams that wanted my services, if they were actually going to use me."
In Allen's eyes, the big thing was the fact that no team gave him a role where he'd be a key contributor. He claims that the teams that were interested wanted him to be at the end of the bench, primarily as a mentor for younger players. However, he wanted to play, saying "it was all about what a team would offer me financially, because that was their commitment to me that they were going to play me in their rotation because I can help them win."
Allen aged pretty gracefully in the final years of his career, so between his drive to stay in game shape and his ability to shoot the basketball, perhaps he would have been able to contribute for a few more years. However, it's a good thing he decided to call it a career, because if he didn't, he'd have to wait another year or two to get enshrined in Springfield.
(Via The Athletic)