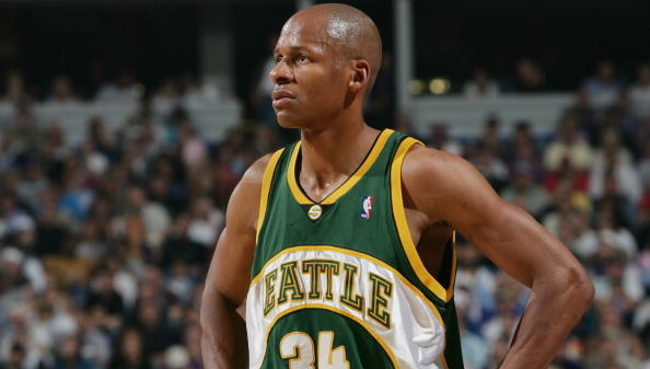 It has been nine years since Clay Bennett moved the Seattle SuperSonics to Oklahoma City and re-branded them as the Thunder. Those have been hard years for the residents of Seattle, as they have been without an NBA team ever since. And while they have been impassioned fans and investor-led movements to bring the Sonics back to Seattle, so far the NBA has not granted the city an expansion franchise.
Despite the non-committal nature for expansion by the NBA, Seattle is not giving up the fight to get the Sonics back. Seattle Seahawks quarterback Russell Wilson is part of an investment group to bring the Sonics back to Seattle, and fans keep pushing for the team to return via social media. This passion has even spread to former Sonics, like Ray Allen.
Allen played for the Sonics from 2003-2007, where he was a four-time All-Star and led Seattle to their last ever playoff appearance in 2005. His time with the Sonics meant a lot to Allen, which is why during a recent visit to Seattle, the two-time NBA champion posted a heartfelt message on Instagram calling for the team to return to the city.
Here is Allen's caption:
Seattle has grown so much since I was last here. What a great city! I had some great memories not too far away from the #spaceneedle. I still can't believe that there is no basketball in Seattle!! This city is too great not to have a hoops squad. Come on everybody we need to rally and bring the NBA back to Seattle. let's make this happen people!!! The NBA misses traveling to Seattle, I know I certainly do!!!!! #bringbackoursonics #keyarena #seattlecenter
Allen's feelings about the Sonics not being in Seattle anymore are shared by many. And given the team's history and connection to the city, their absence is one of the longest-running tragedies in the NBA.
Perhaps one day the SuperSonics will actually return to the NBA. But until that actually happens, we will sadly just have to remember their glory days, just like Allen is doing with his nostalgic Instagram post.