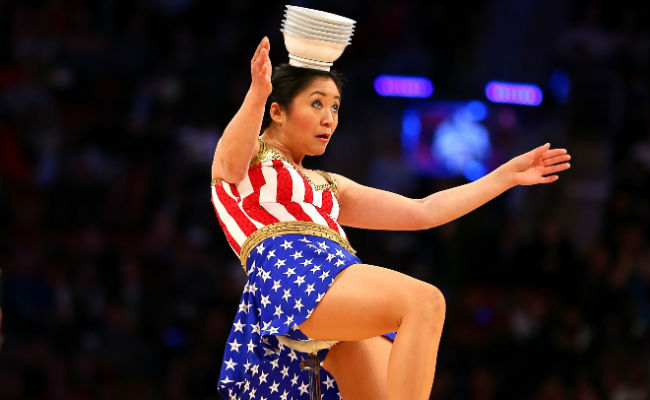 The NBA world is freaking out about the loss of a beloved in-game entertainment prop. Red Panda, the acrobat famous for in-game juggling and aerial feats through the use of a 7-foot unicycle, had that very object stolen from her at an airport earlier this week.
According to KTVU in San Francisco, the unicycle went missing at San Francisco International Airport on January 24. Since then, Red Panda — real name Rong Niu — hasn't been seen in public performing. Try (and fail) to prepare yourself for a very sad quote.
"She's heartbroken," her agent, Pat Figley of San Francisco-based Farallon Entertainment, said according to KTVU. "It's like her baby was kidnapped. She's had that unicycle for 30 years."

Red Panda is based in San Francisco but is beloved throughout the NBA for her entertainment, which involves juggling plates and bowls on her head while riding the unicycle.
KTVU describes the theft in further detail, as well as the no questions asked $2,000 reward for getting her unicycle back.
As Figley tells the story, Niu had landed at SFO from Denver and was waiting for her bag – filled with her 7-foot unicycle – to come off the conveyor belt. She saw it from a distance. But as she was about 10 to 15 feet away, someone "must have grabbed it," Figley said. He said it's possible someone even took it by mistake, and if so, he's hoping they return it, no questions asked.
Red Panda had to cancel an appearance at UCLA because of the missing unicycle, and riding with her backup unicycle has not gone as well as you'd hope.
"She's doing horribly," Figley told the Bay Area station. "She's dropping balls. She's just not used to it. The one that was stolen was custom built for her."
The news of the theft hit the NBA world pretty hard on Twitter, as Red Panda is universally loved throughout the basketball world.
For some it's yet another sign of the decline of this once-great empire.
Others wished for greater, more cosmic justice.
Hopefully it was just a mistake and Red Panda's unicycle is returned to her. Basketball, no, this nation, needs her back doing what she does best.