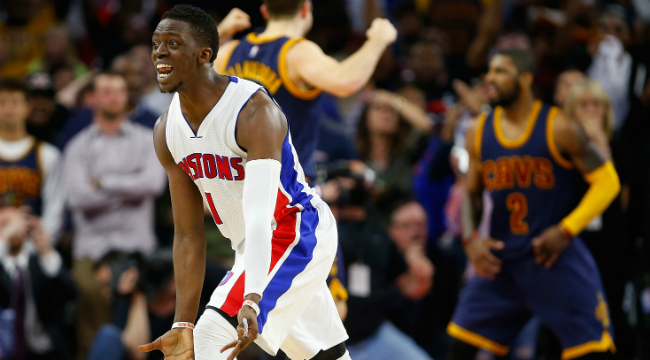 Reggie Jackson was held out of Pistons practice on Tuesday, in a move that is often fairly standard for stars across the NBA. Another fairly standard practice around this time of year is for fans to be thrown into a panic at every little bump and knock a star player takes in the preseason, and the reporting around Reggie's injury must have some heads spinning across Detroit. Look at the conflicting messages between these two tweets from Marc Stein:
Taking it easy on a pre-existing condition in preseason? Normal, everything's fine. Scouring the trade market to compensate for a possible extended injury absence? DEFCON 3. No one has made any mention of a serious aggravation of the injury, and only "today's hot rumble" suggests that it could be that serious. Then again, Stan Van Gundy was extremely non-committal in discussing the injury with MLive:
"We'll just have to see," Van Gundy said. "We've got further evaluation with what's going to need to happen with him. Yeah, we'll have to see how long and everything else."
Jackson iced his knees after every game last year without saying much about the injury, but if you parse his statements, it sounds like a prolonged period of rest to start the season might simply be a way of keeping him fresher than he was last season.
"I was probably a little heavier last year, if not bulkier," Jackson said. "That was tough to take for 82 games. I still got through it.

"I can think I could do it again if need be, but I just had to find the way to train smarter and train my body so I can get in with the long haul and help this team in the gym."
Reggie Jackson is undoubtably Detroit's engine on offense as their leading scorer and assist man running a bazillion Andre Drummond pick and rolls with shooters around them, so if he's out for weeks, it could quickly derail what was supposed to be a leap-forward season for the Pistons. Looks like we'll have to stay tuned.
(Via MLive)