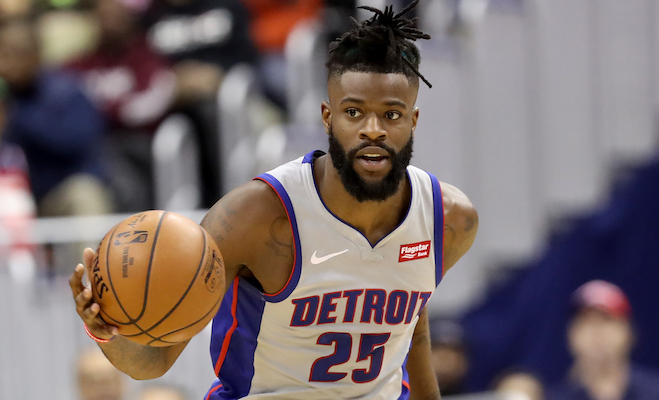 The Los Angeles Lakers are the team to watch as the NBA's trade deadline approaches. The Lakers, fresh off of getting annihilated by the Indiana Pacers, have been engaged with talks over the last few days with the New Orleans Pelicans over Anthony Davis. The teams reportedly stopped talking on Tuesday afternoon, but anything can happen between now and 3 p.m. on Thursday.
Before we get to that point, though, the Lakers have other business to attend to in an attempt to upgrade their roster. According to a report by Frank Isola of The Athletic, Los Angeles struck a deal with the Detroit Pistons in which the teams would swap Reggie Bullock and Svi Mykhailiuk.

Soon after, Brad Turner of the Los Angeles Times and Shams Charania of The Athletic confirmed that the sides had agreed to the deal in principle, with Charania adding that a draft pick will head to Detroit, too.
It's a savvy move by Los Angeles, which is turning a rookie who has struggled to consistently find time and his shot into Bullock, one of the best spot up shooters in the league. Bullock is averaging a career-high 12 points per game this season and is hitting 38.4 percent of the 6.6 threes he takes per game.
Coming into Tuesday night, the two teams were tied for 28th in the league in three-point shooting percentage. While Bullock won't single-handedly turn the Lakers into the Warriors or anything like that, he does fill a gigantic need for the team, regardless of whether a monumental trade is coming before the deadline gets here.