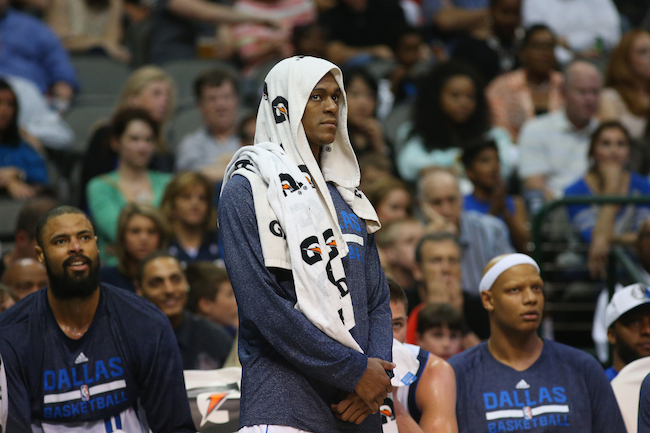 Rajon Rondo's disastrous tenure with the Dallas Mavericks is almost officially over. Drama surrounding its fallout, however, is anything but.
The Mavericks ruled the disgruntled 29 year-old out for the postseason's remainder with a back injury following Game 2 of their first-round series against the Houston Rockets. Given Rondo's tumultuous overall time with Dallas and his listless 10-minute performance in the preceding contest, though, it was easy to believe that the injury excuse was just that alone – merely lip service so player and team could avoid public scrutiny gleaned from their failed marriage.
And just over a week later, that widespread assumption has gained legitimate traction. Here's Tim MacMahon of ESPN Dallas with more on the matter.
The Mavs and Rondo made a mutual decision to part ways the next day, sources told ESPNDallas.com, framing the reasoning as a back injury as a favor to try to help the four-time All-Star point guard save face.

The truth was that the Mavs didn't want Rondo, who was going to be replaced in the starting lineup regardless, pouting and rubbing off on other players, Ellis in particular. Essentially, the Mavs made a drastic move in an attempt to do damage control on a chemistry crisis.
Figures.
Rick Carlisle indirectly confirmed that likelihood last week. Mere hours after the team announced Rondo's injury, Dallas' coach said he didn't expect the four-time All-Star to ever play for his team again. That the Mavericks elected against paying Rondo his playoff share goes to show just how contentious the parties' relationship really was – no matter the rosy comments of Carlisle and Dirk Nowitzki during exit interviews.
Though the hollow support of Dallas is a small boon for Rondo's diminished prospects on the free agent market, it won't be enough to repair his reputation. And for all well-earned talk of his consistently difficult behavior, what will prove even more damaging is that he simply hasn't been the same player since tearing his ACL in 2013.
If the Los Angeles Lakers won't pay a steep price for Rondo, just what team will?
Not the Mavericks, obviously. And given his precipitous overall decline in league circles, we're dubious any franchise will offer Rondo the lucrative, lengthy security he no doubt seeks – a belief we held even before specific details of his departure from Dallas were verified.