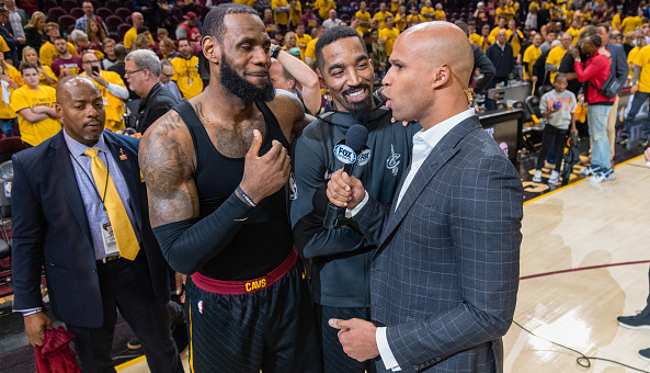 Over the weekend, Richard Jefferson announced his retirement from basketball after 17 NBA seasons. Jefferson was a member of the Cavs team that overcame a 3-1 deficit against the Warriors to win the 2016 title, giving the city of Cleveland its first pro sports championship in more than 50 years.
Prior to that, he'd spent the latter part of his career as an NBA journeyman, with stops in Milwaukee, San Antonio, Utah, Dallas and Golden State along the way before spending two seasons as a member of the Cavs. The former 13th overall pick in 2001 had his best years with the then New Jersey Nets, where he helped lead the team to back-to-back Finals appearances.
Now, Jefferson will reportedly join the broadcast crew in Brooklyn as an on-air analyst for his former team.

Via the YES Network:
Jefferson's first assignment will be on Wednesday, Oct. 17, when he joins studio host Chris Shearn on YES' pre- and postgame shows in conjunction with the Nets' season opener that evening at the Detroit Pistons. YES' pregame show on Oct. 17 begins at 6:30 p.m. ET, with the network's game telecast following at 7 p.m. ET.

Jefferson's first assignment as YES game analyst is Wednesday, Oct. 24, when he and play-by-play man Ian Eagle call the Nets-at-Cleveland game (7 p.m. ET). This year, YES will televise every Nets regular season game.
Jefferson cut his teeth in broadcasting with his wildly popular Road Trippin' podcast that he started while in Cleveland, which featured teammates and other NBA players as guests for wide-ranging and unfiltered interviews on all sorts of topics related to sports and pop culture.
Jefferson is tied with Jason Kidd for the most playoff games in Nets history and ranks fourth overall in scoring for the franchise.
(Via YES Network)