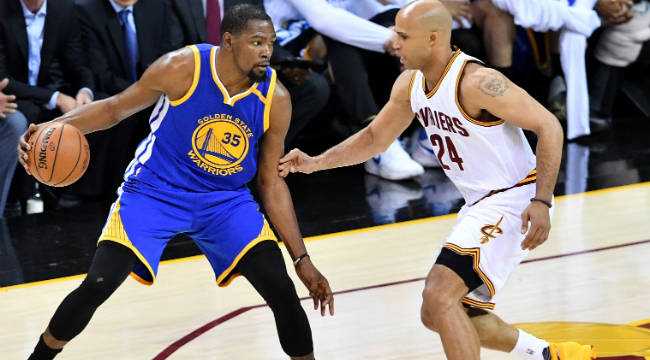 The 2017 NBA Finals were viewed by most as something of an inevitability. The Golden State Warriors, which rolled through the rest of the postseason behind one of the greatest rosters in league history, went up against a talented but ultimately overmatched Cleveland Cavaliers side that had the best player in the world in the corner. The series ended in a gentlemen's sweep, with the Dubs winning, 4-1.
But according to one player on the Cavaliers, that's not an accurate way of describing what went down. Richard Jefferson appeared on Bill Simmons' podcast and said that fans "don't fully grasp" just how close Cleveland was to winning a few more games and making it a series.
"We lose 4-1, right. We didn't play great," Jefferson said, according to Pro Basketball Talk. "But KD hits that huge shot. Kyle, who is one of the great shooters in the history of basketball, he has a good look, it doesn't drop. That's part of it. And then KD hits a tough shot over LeBron on a dribble-up. That close. You win the next game and it's 2-2. People don't understand: 'Oh 4-1, they killed you.' It's like dude, it's literally one shot here, one shot there."
Jefferson also believes that, if one of those shots falls, the series would have gone to a Game 7. That's because he believes Cleveland would have won a Game 6 on its home floor — "we do not lose on our home court in a Game 6 situation," Jefferson said — and then things become a toss up in a one-game playoff for the title. We saw this in the 2016 Finals, when the Cavaliers were down 3-2, won Game 6 on their home court, and then locked up the Larry O'Brien Trophy by walking into Oracle Arena and winning an insanely close Game 7.
Basketball is weird like this. While I am inclined to believe that Cleveland would have not won the series under basically any circumstance, who knows what happens if they win Game 3 of the Finals, in which they had a six point lead with more than two minutes remaining and lost by five. At the very least, this is the kind of thing that the Cavaliers can use to motivate themselves as they work towards another matchup with Golden State in the Finals.
(Via Pro Basketball Talk)