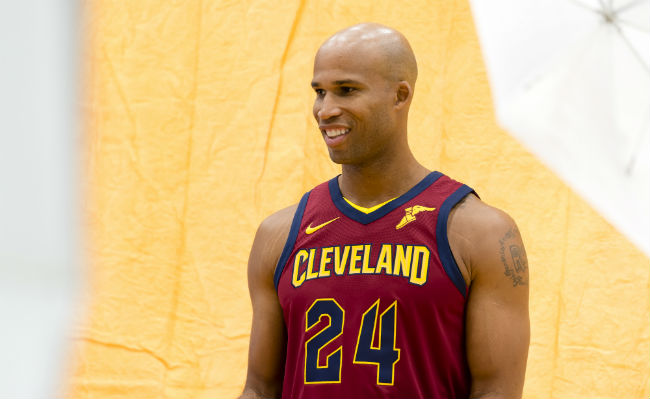 The Cleveland Cavaliers are going to have a lot of new faces in different places this fall, and a late departure might make their lineup decisions a bit easier.
Yahoo Sports' Shams Charania reported late Friday that the Cavaliers were in talks to move Richard Jefferson to the Atlanta Hawks less than a fortnight before the NBA season tips off.
A package of Jefferson and Kay Fielder were the initial assets heading to the Atlanta Hawks way according to the The Vertical reporter.
https://twitter.com/ShamsCharania/status/918958442634711042
Adrian Wojnarowski followed up with more details about the trade, and the fact that Atlanta plans to waive Jefferson immediately.
Woj also reported that the Cavs are sending a pair of second round picks to Atlanta for the deal, and that the team is likely to waive Fielder as well.
If you're wondering what the Cavs get back in the deal, the initial answer appears to be "European draft rights." But the deal sheds salary for the Cavs and likely finalizes their 15-man roster.
But of course everyone's first thought here is what will happen to the Road Trippin' podcast that Jefferson and Channing Frye record? Will it continue now that Frye is out of the starting rotation in Cleveland and Jefferson is a free agent headed elsewhere?
Whether Road Trippin' can conue as a remote podcast or not, it's the latest change in what's been a very interesting summer for the Cavaliers, who traded for Isaiah Thomas and signed Dwyane Wade and Derrick Rose. Rose and Wade are both in the starting rotation for Cleveland, while Thomas continues to rehab his hip injury.
But Jefferson's departure signals that it will be a very different team for the Cavaliers whenever they finally get Thomas back in the fold. And when LeBron James is back to 100 percent, too.