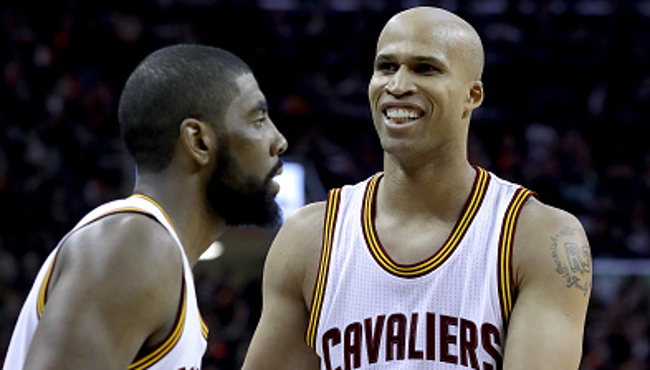 The sports media basically spent the entire weekend trying to make sense of the Kyrie Irving trade request, with all sorts of threads being interwoven to construct at least a semi-comprehensible narrative. Not that it's all that complicated, when it really comes down to it.
Irving is tired of playing second fiddle to LeBron James (despite averaging more shot attempts in both the regular season and playoffs). The Cavs can't beat the Warriors, and Cleveland's front office has categorically failed to do anything about it this off-season. Irving is sick of the looming threat of LeBron's departure in free agency next summer and wants to exert a modicum of control over his own destiny.
You can't really blame Irving for any of this, and at least one of his teammates is emphathetic to his plight.
Note that Jefferson and podcast partner Channing Frye have both denied being the anonymous Cavs player who beckoned Irving to stay in a recent ESPN report. Although it now seems like a foregone conclusion, given the veracity of the various reports, the Cavs don't appear to have an imminent deal in place.
There are plenty of scenarios for them to explore, and the Cavs would be wise to try and get the best package available, although the leak of his request certainly didn't aid in that endeavor. Through it all, what is normally the thick of the off-season doldrums got a lot more interesting over the weekend.