Ricky Davis was a high-flying, dunk posterizing, high energy forward who stuck in the league for 12 seasons. The one-year Iowa Hawkeye fell to the late first-round in the 1998 NBA Draft, one of the most underrated drafts in recent memory. Featuring the likes of Dirk Nowitzki, Vince Carter, Paul Pierce, Mike Bibby, Bonzi Wells, Jason Williams, and other notable stars, Davis could have been a footnote in an absolutely stacked class. Instead he carved out an up-and-down career that won him all sorts of fans, long after his NBA days were over.
Playing for seven teams in his dozen years, Davis was the slam-dunk runner-up in 2000 behind then Raptors guard Vince Carter. Davis wouldn't take long to make an extreme impact on the court, making his mark most notably on the Cleveland Cavaliers in the 2002-2003 campaign where he averaged 20.6 points, 5.5 assists, 4.9 rebounds and 1.6 steals in 39.6 minutes a night.
Now, Davis, who's still three years younger than fellow draftee and dunk competition foe Vince Carter, is embarking on a new challenge with the Big3 league. Formed by Ice Cube, the league has garnished tons of publicity for its incredibly big list of former NBAers including Davis himself. The independent league, which announced tickets were on sale last week, has gained a ton of momentum due to its recent draft, team logos, and name list.
Davis sat down with DIME and discussed the new league, what he expects, his time in Cleveland, and his new role as a coach and mentor for his foundation.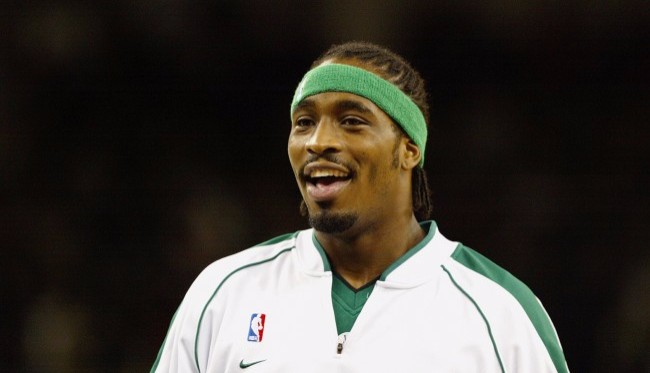 Why Did You Decide To Play In The Big3?
Well, I decided to play in it because I had heard Ice Cube was putting on a 3-on-3 league. He was someone who I grew up listening to and watching, just such an icon that you saw on TV all the time. Honestly, when you saw someone that was your idol putting on a 3-on-3 league, it was just very hard to resist.
What will be on the line other than just bragging rights, when you're playing in this league?
Well, it's bragging rights. But, it's also a great opportunity for guys who have put a ton of hard work and sacrificed their life for basketball to get another shot at going out there and showing the fans that we still got it. I just think it's going to be really, really fun.
Does it feel like a reunion in a lot of ways, playing with and against a lot of the players you've been around previously?
It does. It definitely does. Guys are getting back together and I have several teammates that I've played with and against, and it's good to see those guys and be around each other again. But, it's just good to get back out there with the fans and really, I'm just looking forward to competing against all these guys. When we get out on the court, we're just gonna go hard because it's the only thing we know how to do.
How have you kept your game up since you last played in the league?
I've been working out every day, I've never really stopped. Since I've been out of the NBA, I've been coaching my AAU program that I've got going on. Coaching kids, getting them ready for the next steps in college and the game. I'm always in shape and I'm always ready, so when I heard this league was going on I just got in the gym a little more.


I want to touch on the NBA today. What are some of the changes that you see from today's game to when you played?
It's a big difference. The game has changed a whole lot, it's night and day from when we played. And it's almost night and day for the even older guys with the rules changing and the hand checking. It's kind of turned into a more basic game where all the guys are kind of the same. It's different.
Yeah, it seems like the Big3 is trying to bring some of that back with hand checking and more entertainment including the four-point line. Do you feel like that's the case?
Yeah, I definitely feel it. When you get this group of guys with these names and what they've done on the court, they're going to get on the court and do what they do best. They're going to be pit-bulls. It's a wide variety of guys, ages, but Ice Cube starting this league is bringing out some of the best dogs that used to play in the league. I think everyone is going to like it and enjoy it.
Let's go back and talk about your time with Cleveland. Personally, how did you enjoy playing in Cleveland?
It was great! Cleveland was great for me. It was one of the best places and my game was on top there. I loved my time there and they really embraced me. It was great for me, I enjoyed it, and that's where I kind of made my name so it'll always be a special place.
Did you pull for the Cavaliers in the Finals last year?
Oh yeah, I was pulling for Cleveland all the way.


What do you think about LeBron James, how good is he? Is there any comparable players?
LeBron is amazing. Truly one-of-a-kind. I came up when Jordan was the man and before that, some other guys. But nowadays, LeBron wears the hat. Now that Kobe is gone, he's kind of taken over that from him. You know, I saw him as a rookie, and you could see the flashes of greatness in him and you knew it was only a matter of time before it all clicked in him. Now, he's evolved, grown, and this guy is incredible.
So you've moved onto coaching, how do you enjoy it and what is that like?
It feels great to show the kids that competitiveness and hand down that experience. Watching the development of the kids and I am doing more than just the basketball now. We are prepping them for SAT's, core classes, and more so they can make it to that post-high school and secondary education programs. We're trying to get kids sharper on the court and off of it.
Do you take some of the advice and experiences from your career and make sure the kids don't make some of the same mistakes that you may've made?
Definitely, that's a big point. Some of the things that I've made mistakes at, are great teaching points for the kids. We certainly focus on what to look for, and with my experience, I've been in almost every situation in basketball, so it's really important that we give them this knowledge so they don't run into the same roadblocks as we did.


Now, you have a foundation correct? Can you explain that?
Well it's about a legacy, building a legacy. It's called the Ricky Davis Legacy Foundation. It's really about getting kids ready and prepared to start their dreams. We have mentoring programs, we do a number of college and career programs, STEM education, and we also do a few AAU tournaments as well. We're just doing a lot of stuff to give back to underprivileged kids and kids in need. Actually, we're also starting a home school program soon.
A home school program? Can you explain that?
Well, it's kind of like a private school but we're focusing on kids and student-athletes and changing that dynamic. We're trying to focus on getting kids grades and prep classes done and prepared for before their junior year. When they enter as freshman and leave as juniors, they'll be NCAA certified and ready, SAT prepped, and ready to move on as they enter their junior year of high school.