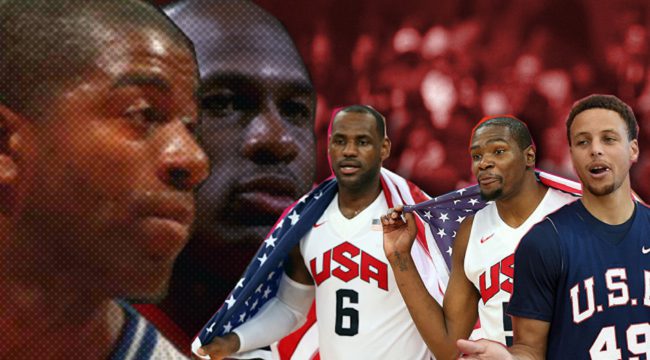 This exercise includes foreign-born players. Well, not really. But before finalizing this roster of 12 Americans, we were asked to construct the best possible Olympic team using the entire pool of NBA players – which includes guys from the United States, Canada, Serbia, France, Australia, and tens of other countries.
Guys like Marc Gasol, Rudy Gobert, and Serge Ibaka were legitimately considered. In the interest of fairness, Andrew Wiggins, Giannis Antetokounmpo, and even Kristaps Porzingis received a passing glance before being rightfully shunned in favor of superior players.
Bottom line: A perfect Olympic team featuring NBA players is one that essentially serves as a modern day Dream Team. Big surprise, right?
With that in mind, it's important to note that this team was built with USA Basketball's two-way playing ethos in mind. It runs like the wind, pressures the hell out of the ball, launches from deep with abandon, and uses athleticism and versatility to fully exploit the advantages Team USA has enjoyed over other countries for decades. Mike Krzyzewski roams the sidelines, and the governing rules of FIBA were taken into account.
It bears mentioning, too, that this is in no way a simple selection of the 12 best players in the world. The 2010-11 Miami and 2012-13 Los Angeles Lakers struggles for a reason. Basketball is a team game; it's not played on paper. These guys were selected specifically because they fit not only the schematic profile this theoretical squad employs, but because they fit one another and are comfortable playing within the team concept, too.
Without further ado, this is the perfect Olympic basketball team.
Absolute Locks
LeBron James
The order in which these 12 players are listed is no accident. There was a long stretch during the 2015-16 season when it appeared that James had been passed in the sport's individual hierarchy, but then June came around, and the Cleveland Cavaliers' icon reestablished himself as basketball's most influential player with a crowning NBA Finals performance that's somehow still underrated despite the plaudits he's received in the interim.