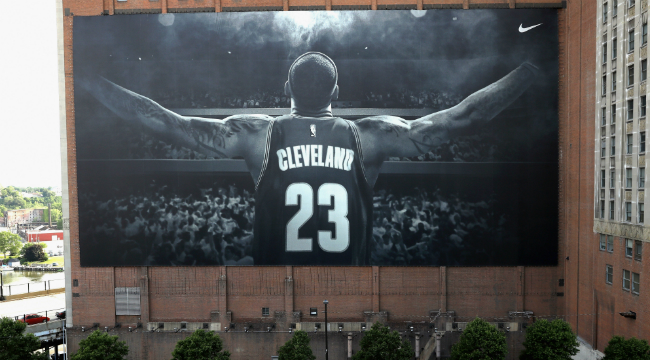 After their first major sports championship in over 50 years, Cleveland fans will be finished celebrating when they're good and ready to be finished celebrating. Sherwin-Williams, whose corporate headquarters sits across the street from Quicken Loans Arena and are the resting place for the iconic LeBron James banner above, made the spectacularly ill-timed announcement just days after the Cavaliers' title win that the banner would be taken down and replaced with a patriotic ad for the paint company in anticipation of the Republican National Convention (which is being held in Cleveland).
Needless to say, Cavs fans were unhappy.
There was a deluge of criticism across social media from fans who want to stare up at that banner and think, "Man, that guy brought us a championship" for as long as they please, as well as a Change.org petition with over 23,000 signatures last we checked. Well, Sherwin-Williams heard the cries, and realized that pushing aside maybe the single most iconic image in Cleveland since the turn of the 21st century is a bad PR move. So good news, Cleveland: The banner stays!
Sherwin-Williams promised to keep the banner up, and on top of that donated $150,000 to the LeBron James Family Foundation as a mea culpa, releasing a statement to go along with the gesture:
"In recognition of fan interest, the company will keep the now-famous LeBron James banner hanging from its global headquarters building… For the last year, we've been planning to hang a celebratory banner outside our building during the summer months. But what better way to celebrate our 150th year than with a NBA championship?"
Notably, the statement did not go on to say, "Now can you please stop saying mean things about our paint company on Facebook?"
(Via Cleveland.com)