The most stunning move of the offseason took place on Wednesday morning when the Clippers and Rockets agreed to a blockbuster deal to send Chris Paul to Houston in exchange for a multitude of players and picks. To make the deal work, Paul will opt in to his player option for next season and the deal will take place prior to the changeover to the new league year on July 1, because Houston had to do some fancy cap work and player additions that won't be legal once the new CBA kicks in.
That part is all legal minutiae, but what we're left with once the lawyers and cap experts for both teams are done is a significant shakeup that not only affects the Rockets and Clippers, but the league as a whole. While we were all focused on what the Bulls were doing with the Jimmy Butler deal, where Paul George will end up, and Phil Jackson managing to get himself fired in New York, the Rockets and Clippers managed to make a move that will have a ripple effect around the entire league.
For the Rockets, it gives them the best guard duo in the league with Paul and James Harden and creates a number of very intriguing options down the road. Houston is still working to clear the way for another splash move this summer, knowing that Paul alone doesn't get them to the Warriors' level. The Paul trade is big for Houston and Los Angeles, but it also will have ramifications for the rest of the league that will last through next summer.

A Shift Of Power In Texas And The Western Conference
Paul teaming up with Harden in Houston suddenly makes the Rockets the top contender to the Warriors in the Western Conference with the Spurs in limbo trying to figure out what to do with LaMarcus Aldridge and how to improve. The Spurs remain close to the Rockets, but Houston appears to still have moves planned to add at least one more star to their roster and by landing Paul in a trade, Houston takes away San Antonio's top free agency target and best chance to significantly improve this offseason.
If another trade does indeed land the Rockets another star, then the Warriors have something to at least think about in the West in their efforts at a repeat.
The Clippers, meanwhile, will see a significant drop-off based on the return they're getting for Paul and their best case scenario is to keep the rest of the band together without their lead singer. That means that L.A., a top five seed in the West for the past six years, is likely to slide significantly to the bottom of the playoffs if not out all together if the worst case scenario plays out.
The Warriors are still significantly better than the rest of the Western Conference, pending another move by Houston, but the team closest in their rear view mirror has changed with this trade.
Paul George Trade Negotiations Get Very Spicy
There is one more major superstar available on the trade market and that would be Pacers' star Paul George. The Rockets landing Chris Paul is an excellent thing for Indiana, which was struggling to land the assets desired for George — Boston reportedly refused to send them the No. 3 pick. The Rockets are reportedly a player for George, although they now find themselves in a similar situation to Cleveland regarding future assets to send to the Pacers.
Houston shipped its 2018 first round pick off to the Clippers, so they can't deal another first rounder until 2020. They sent Sam Dekker and Montrezl Harrell to Los Angeles as well, two of their best young assets, meaning the cupboard is close to bare when it comes to pieces intriguing to a rebuilding team. That means a third team needs to get involved to send the necessary assets to the Pacers to make this deal happen.
Ryan Anderson, and his $19.5 million contract, makes the most sense in any kind of deal for a star, because his contract is enough to help balance out cap necessities. Eric Gordon, making $12.3 million, and Trevor Ariza, making $7.4 million, both could also be part of a move for George to make the finances work.
While Cleveland and Houston continue to search for the right third team to make a Paul George deal happen, the Lakers now have to seriously consider the possibility that if George ends up with either the Cavs or the Rockets, he could decide to stay there because they would be closer to title contention.
The Lakers have long been the presumed destination for George as a free agent in 2018, but if he's pried away from Indiana by a contender, there's a realistic chance he decides to re-sign. That possibility is great for Indiana, who can try and use that fear to pluck an asset or two away from the Lakers that they have otherwise been reluctant to include in a deal — namely, Brandon Ingram. Magic Johnson's resolve in maintaining their young core group will be severely tested over the next few weeks as George rumors continue to swirl.
Blake Griffin And J.J. Redick's Free Agencies Get Even More Interesting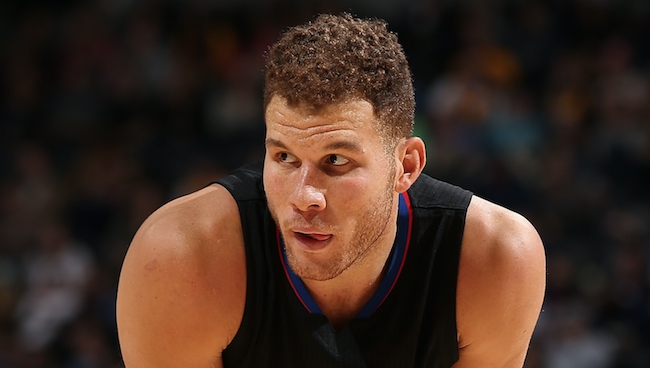 Many assumed that one or both of these would consider leaving the Clippers for a new destination this summer. Redick seemed like the most likely candidate to leave, considering he'd be the one to feel the money crunch that the Clippers were facing with Griffin and Paul needing new deals as well the most. The Sixers and Nets are among those rumored to make big pushes for Redick, as he's the kind of veteran shooting guard that can be of great use for a rebuilding team and both Philly and Brooklyn have tons to spend.
However, the Clippers suddenly have far more cap space to use than originally planned, after acquiring a number of non-guaranteed deals from Houston that can be waived prior to free agency starting. Redick's best options for signing a big deal were already with teams not expected to be contenders, so, if he enjoys being in Los Angeles, the Clippers can now make a far bigger financial commitment to try and keep him.
Redick's future isn't as important to the Clippers' plans as Griffin, who will likely be the one that determines if the Clippers continue pushing forward with plans to compete for playoff births now or if a rebuild begins this summer. ESPN's Ramona Shelburne reports that the Clippers will be committed to re-signing Griffin this summer, but it remains to be seen if Griffin is as enthused about remaining a Clipper with Paul gone.
Griffin will reportedly be courted by the Celtics among many others, and for the oft-injured star who has had a roller coaster ride of a tenure in Los Angeles, he may see a change of scenery as his best course of action.The biggest problem the Clippers face should Griffin bolt is that they didn't recoup an awful lot of future assets in the Paul deal. The Clippers landing Patrick Beverley and Lou Williams gives them some veteran help to bridge the gap with Paul gone, but Houston's 2018 first round pick likely won't be a great pick and the young assets going to Los Angeles appear to have ceilings as role players.
It's hard to overstate just how important Paul was to the Clippers' success, and there isn't a combination of players that fills that void. We'll find out if Griffin understands that or cares about that with his impending free agent decision. If he does choose to move on, the Clippers best hopes will be to find sign-and-trade options for Griffin and/or Redick, and try to piece together some assets for the future that they didn't get for Paul.

2018 Will Be The Summer Of The Banana Boat Crew
By opting in for his player option to make this trade happen, Chris Paul set in motion the Summer Of The Banana Boat in 2018 when he, LeBron James, Dwyane Wade, and, potentially, Carmelo Anthony will all be free agents. We know James and Wade will become free agents next summer, and Carmelo Anthony can become one if he exercises his early termination option after this season — or if he gets bought out by the Knicks.
For years, we've heard rumblings that the four have dreamed of playing together in non-Team USA action, and while it's hard to see how they would all end up together (barring massive financial concessions from them all) it will make for a thrilling summer.
The biggest prize of the four will of course be LeBron James. Paul's departure from the Clippers all but rules them out for LeBron's consideration. LeBron's reported desire to end up in L.A. is well documented, and, without Paul, there's little incentive to make the Clippers his choice over the Lakers — provided they can get Paul George first. George could, instead, end up in Houston with Paul and Harden, making for quite the formidable squad that could very well decide to hold it together after next summer, which is the Lakers' nightmare situation, as that would significantly hurt their chances of landing James.
In that scenario, James likely sticks it out in Cleveland and, with the exception of Paul, could bring along Wade and Anthony on smaller deals.
Anthony is also reportedly a trade target of the Rockets, should they miss out on Paul George, but his status for next summer would be the same either way with his ETO. Wade's situation is far more fluid as he is in the situation of being the one likely to command the least on the open market while also not having to worry about chasing rings. Wade could opt for a contender, decide to play with his friends, or simply go in search of the biggest contract in the nicest city.
In any case, next summer will be an incredibly interesting one for the Banana Boat crew, and we can only hope that they all get a beach house together and hold free agency meetings in the same place.