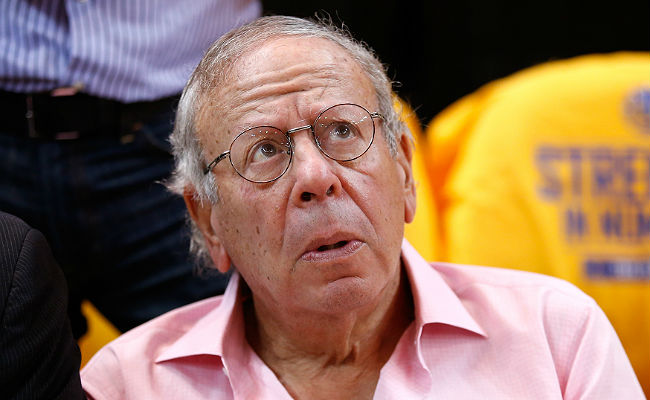 Houston Rockets owner Leslie Alexander had already pledged millions to help Houston recover from Hurricane Harvey, but on Tuesday he more than doubled that donation. Alexander pledged $4 million to disaster relief efforts on Monday after a weekend where Houston was pounded by more than 40 inches of rain, flooding much of the city.
"Our hearts are heavy seeing the devastation that so many of our friends, family and neighbors are experiencing," the Rockets announced in a statement. "Leslie Alexander has contributed $4 million to Mayor Sylvester Turner's Hurricane Harvey Relief Fund in an effort to help Clutch City come back stronger than ever. Please stay safe, Houston."
By Tuesday, as relief efforts continued and flood waters stayed in place, Alexander upped that figure to $10 million, a figure a team spokesperson confirmed in a statement. Alexander is just one of a growing list of people in the NBA community reaching out to help those impacted by the historic flooding in the city and other areas of Texas. Oklahoma City Thunder forward Enes Kanter is also among those, as he donated $25,000 to relief efforts on Tuesday.
Kanter spoke to The Oklahoman about other NBA players donating and doing what they can to help those in need, saying "we need to do some action" and encouraging others to donate. And others have certainly stepped up, including new Rockets guard Chris Paul, who gave $50,000 over the weekend as part of J.J. Watt's relief fundraising efforts that have topped $1 million so far.
Clint Capela is also doing his part by amplifying those who need rescuing on Twitter. He's spent much of the last few days retweeting people who say they are in specific parts of the area and trapped by flood waters in an effort to get them a rescue boat.
Others are certain to step forward and donate time and money to help the people of Houston survive what's become much larger than just a bit of rain. The impact the storm and its aftermath has had on the region will take years, maybe decades, to overcome. You cannot change the weather, but those in the NBA community seem ready to help Houston rebuild.