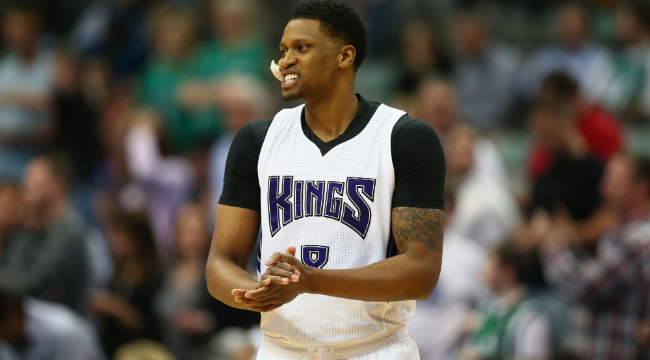 The Sacramento Kings are an organization perpetually in the state of trying to get its act together, and when you're a 30-year-old veteran on the latter half of his career, that tends to wear your patience thin. Rudy Gay has seen his name dragged through the mud by hoop nerds as he's moved from Memphis to Toronto to Sacramento, and he must be eager to prove he could be a worthwhile piece for a contending team. With that in mind, he's told Sacramento that he will opt out of his contract after this year to become a free agent, and is all but ruling out returning, according to The Vertical's Adrian Wojnarowski.
It's a move that is at once completely unsurprising and breathtaking. Sure, Rudy Gay not knowing who's even on his team and having to deny he demanded a trade kind of hinted at how little he cared about the Kings, but to brazenly say, "Nah, I'm out after this year" is something else. This is, too.
We know that the less likely a player is to extend his contract the subsequent summer, the less a team trading for him will be willing to offer, fearing he'll be just a rental. By Wojnarowski's account, teams have been interested in Gay but have been scared off by Sacramento's large asking price. Maybe by cutting out the Kings' legs, Gay's agents are trying to get them to dump him for pennies on the dollar, secure in the notion that he'll leave for nothing anyway? It makes a certain sort of sense, even if it does bear the hint of desperation at trying to rebuild Rudy's value ahead of free agency.
Gay still, even at 30, has the untapped potential of a solid player, provided he can find a team that doesn't need him as their primary scorer and a coach that can get him to work his tail off as a small-ball power forward. The Kings are the opposite of that, a disjointed squad with an abundance of young big men who need minutes to develop. Basically, Rudy Gay is one of a number of Kings players who would probably be better off somewhere else, and he knows it.
(Via Yahoo)