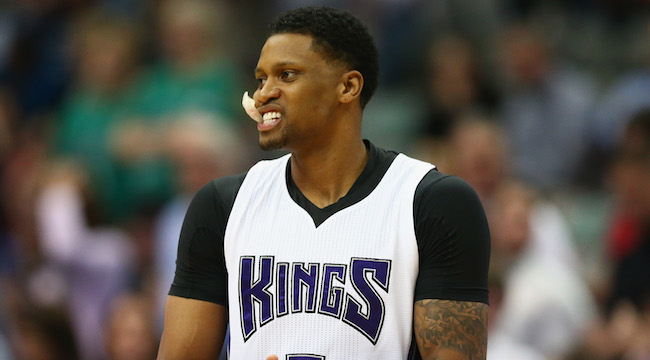 On Tuesday, the good folks at NBA 2K18 released their ranking of the top 10 small forwards in the league and, for the most part, it was business as usual. LeBron James and Kevin Durant topped the list to the surprise of exactly no one, and names like Kawhi Leonard, Giannis Antetokoumpo, and Paul George were also prominently listed.
However, one veteran small forward wasn't exactly pleased with his omission from the list: Rudy Gay. The San Antonio Spurs wing made his gripe known on Twitter.

Gay appeared in only 30 games for the Sacramento Kings last season and, while he performed quite well in those outings, the 31 year old suffered an Achilles injury that severely depressed his free agent market. As a result, Gay signed a relatively cheap deal with the Spurs and he enters the season with modest expectations because of the injury.
In his (healthy) prime, Gay was seen by many as one of the better small forwards on the planet but, frankly, there is little reason for NBA 2K18 to rank him that way heading into the upcoming season. There is an argument that, in an increasingly position-less NBA, some of the players on the list might not play small forward full-time. But in the same breath, it would be tough to formulate a case to place Gay ahead of even Harrison Barnes or Danilo Gallinari with the information currently available.
Rudy Gay certainly isn't the only NBA player to express displeasure with his NBA 2K18 rating but this one was rather pointed.