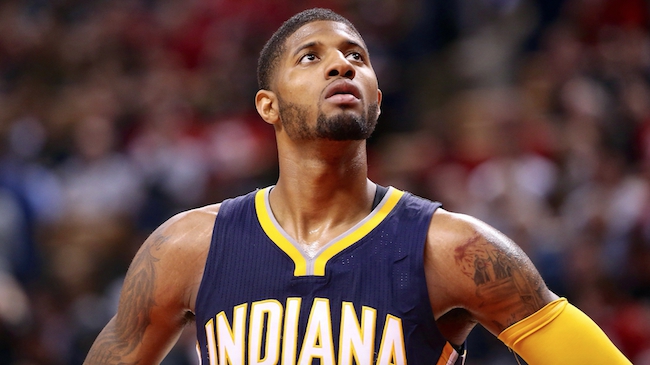 In a shocking turn of events, the Indiana Pacers traded Paul George to the Oklahoma City Thunder on Friday for Victor Oladipo and Domantas Sabonis. The Thunder came out of nowhere to make this trade as the Pacers had been reportedly fielding offers from a number of teams like the Boston Celtics, Cleveland Cavaliers and Los Angeles Lakers.
But many teams were reluctant to acquire George because of his reported intentions to join the Lakers when he is a free agent next summer. The prospect of trading away so many assets for a one-year rental of George was just something nobody wanted to do. Except for the Thunder, that is.
Naturally because of the Thunder's unexpectedly trading for George, the NBA community reacted with shock and awe as players like Joel Embiid and Rudy Gobert weighed in on the surprising news via their Twitter accounts.
Gobert reacted to the new of George being traded with the idea that the league should fuse both the Eastern and Western Conferences together.
Embiid on the other hand, saw George leaving the East as an opportunity for the Sixers to make the playoffs.
A number of other NBA players, from Dwyane Wade to Jeremy Lin, joined in on the fun.
We will have to wait and see if George ends up sticking around long-term in Oklahoma City but for next season, he will be suiting up in a Thunder uniform and playing alongside the 2016-2017 MVP Russell Westbrook.