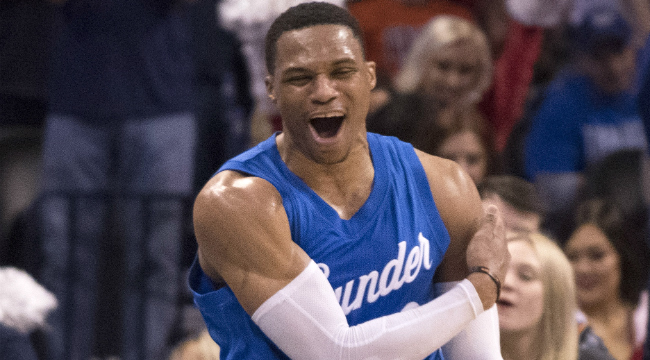 Russell Westbrook picked up his 33rd triple-double of the season on Tuesday night. During Oklahoma City's 122-104 win against Brooklyn, Westbrook scored 25 points, dished out 19 assists, and hauled in 12 rebounds. It wasn't his most efficient night – Westbrook went 6-for-18 from the field – but the Thunder won and he got triple-double No. 33, so it all worked out.
A cool moment came when Westbrook officially got his triple-double. He needed to pull down a rebound and did just that after a Brook Lopez miss in the fourth quarter. It sent the crowd into a frenzy, as those in attendance exploded while they watched Westbrook take his latest step towards history.
Oh, by the way, the game was not in Oklahoma City. No, Westbrook is so good that he was able to make the crowd in Brooklyn go crazy for his latest triple-double.

As the announcer pointed out, everyone knew that he needed a rebound and went wild when he got it. You know you're good when you're able to pull this kind of reaction out of opposing fans, both the cheering and the fact that they were following along closely with your particular box score. If the crowd in Oklahoma City did this, it would have been cool to see them celebrate their star like this. Instead, this reaction happened on the road. It must have been weird for Nets players to hear this, but at least it was fun to watch.